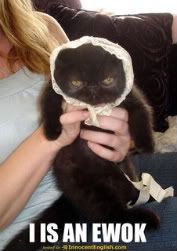 - Wed Mar 17, 2010 6:47 pm
#81526
http://www.swcollector.com/forum/viewtopic.php?f=57&t=1541
Q1.) I know you have decided against a "Droid Factory" type playset due to costs, but what about releasing sets of BADs using battlepack or 2-pack type packaging? There would be no new tooling costs, and you could package the droids in an "exploded" format to play up the interchangeability of the parts. You could even reuse the packaging design by releasing "refreshes" of the same droids but in different paint schemes.

Answer:
This is an idea we have been looking at, but have not yet slotted something like this into the lineup.
Their second question mentions Hasbro are trying to find a way to release a BAD R2 D2 and C3 PO.
If i wanted figures like Rebels and Legends series i'd build a time machine. Even if i did want them, i'd probably still need a time machine..