- Sun Jun 21, 2009 10:27 pm
#68278
I think that this Yakfinities has some amazing entries. I feel honored to be able to join in on the fun.
DanOfTheDead
The Renegades are awesome. That Rykrof Enloe is unbelievable. I can't believe that you aged him that well by cutting lines in his face. I'm sure I would have screwed that up royally. Everyone of those characters is great. Really inspiring. I guess my only critique would be to do something with the wookie's neck. I think that shortening the neck might make him look too short though. Maybe you could sculpt some hair in the gap? Anyway, even if you left it like it is, it would still be great.
I might have to steal your idea for that group of imperials
Chewie
Another great group of figures. You always seem to have just the right kind of fodder. What I'm always in awe of is your subtle paint jobs. The colors and shading always seem to work so well. I don't know what else to say about them other than I love them.
Incom
Please tell me your going to get these finished soon. They look like some tough S.O.B.s.
jedistyle
It's always good to see new customes from you. I think these all look great. I love that nasty looking scar on Cess Azard.
And the spots on Jag Lorsh are a nice touch.
Sorry if I left anyone out, I think that everyone has done a really great job this time. It's too bad everyone can't get a prize.
Well, anyway here is my second team. Again, I don't really have any names or a definitive story for these characters. I'm thinking that they are a group of jedi survivors banding together for protection during the "A New Hope" era. I started one of these while waiting for the paint to dry on my pirates, just thinking that I wanted to use up Jedi parts that were taking up space (I have a small work area). But I thought that he turned out pretty good and decided to make some more.
http://i246.photobucket.com/albums/gg112/insekt69/TeamJedi.jpg
This guy was the first completed.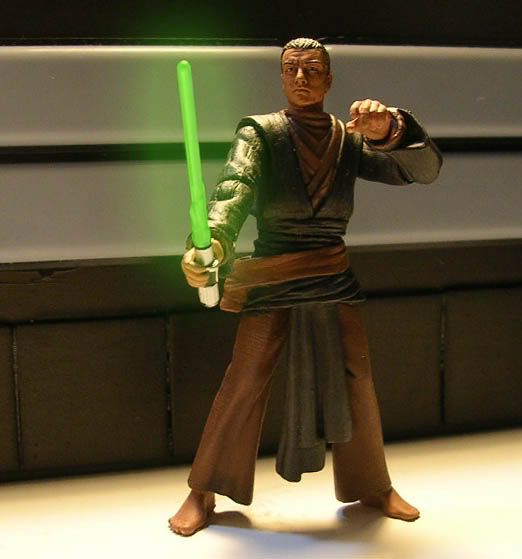 He's the more mystical, hippie like Jedi of the group, tending to avoid conflict if possible.
HEAD-BBI soldier
TORSO/ARMS-Order 66 Jedi from Target 2 packs (I forget his name)
TUNIC-Secret Apprentice
LEGS-Pirates of the Caribbean Chow Yun Fat
SABER-Yoda I think
The most battle-hardened of the group, this guy lost an arm to a squad of Jedi hunting Storm Troopers.
HEAD-BBI soldier
TORSO-Rahm Kota
LEFT ARM-Legacy Luke Skywalker
LEFT HAND-WWE Umunga
RIGHT ARM-Terminator
TUNIC-Voolvif Monn
LEGS-Tol Skorr
I had to trim the Terminator arm in two places in order to get it to match the length of the Luke arm. The only places to really trim it and still look somewhat seamless are right below the elbow and at the wrist. I also added articulation at the elbow allowing the forearm to swivel.
I don't have a background for this character.
HEAD-POTF2 Boushh Leia
TORSO-Wioslea
ARMS-Secret Apprentice
BELT-Pirates of the Caribbean figure
TUNIC-Saga Boushh
LEGS-Luminara Unduli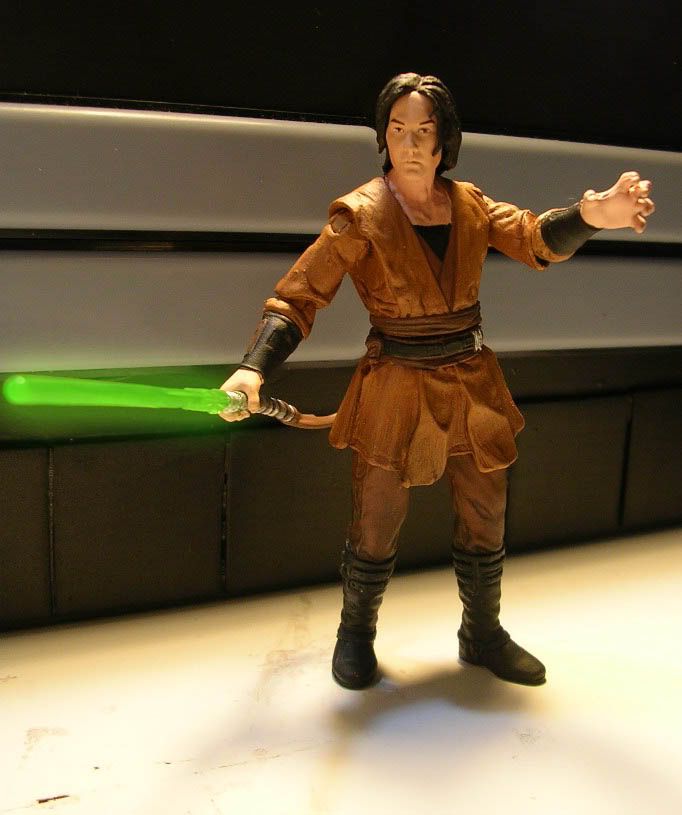 I don't have a character for this guy either, although I'm assuming that he is the woman's brother.
HEAD-Prince Caspian
BODY-Saesee Tiin
ARMS-Tol Skorr
TUNIC-Sora Bulq
LEGS-Quinlan Vos