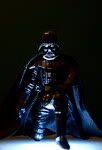 By
Incom
- Tue Mar 19, 2013 7:27 am
- Tue Mar 19, 2013 7:27 am
#128605
Well, the Governor has really lost it now. Great episode again and like Chewie said, the Governor/Andrea chase was very tense. Too bad he caught up with her in the end, I think that kinda sucked.
At first I thought, it was too late for Andrea to act up, what with all that had happened so far. But I hope she'll make it through for a little while longer.
I have a feeling Tyrese will play a big role in the upcoming episodes. What Andrea said won't let go of him and the contradictions between what the Governor said and what his men said to Tyrese won't either.
These two/three character themed episodes have been very entertaining and there's some great music at the end as well. Definitely my favourite series (and I watch a whole bunch nowadays
).