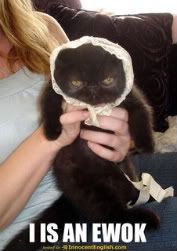 - Sat Jan 19, 2008 11:56 am
#37048
theprivateuniverse.co.uk Q&A

Q2. The new Hoth Patrol battle (cold weather scouts on
speeder bikes) pack looks awesome... almost. Why do you
persist in using vertical handlebars when you have a
movie-accurate horizontal tooling? You've gone to
the trouble of kit-bashing an awesome new trooper for
the pack, any chance we'll see the minor handlebar
revision before release - thereby making it a home
run?

A2. We use tools that are available to us at the vendor we are working wiith us on this pack. We will look what is possible for this one, and whether a change at this point is possible.
If i wanted figures like Rebels and Legends series i'd build a time machine. Even if i did want them, i'd probably still need a time machine..