- Mon Sep 15, 2008 6:15 pm
#50998
Over the past few months, I've been making a small collection of figures to use as custom fodder for Indy-verse customs. Not always easy, since action figures in "real world" outfits are hard to come by.
But here are some pics of what I've managed to put together. Indy figures are show for size comparison...
The Jurassic Park 3 line has been used for SW custom fodder for several years now.
I only recently discovered this Alan Grant variant figure with the vest, which, despite limited articulation, would make a great base for just about any kind of figure, particularly in an outdoors, wilderness, jungle, desert or other kind of "adventure" setting.
The other Alan Grant figure in white is a little bulky (and also hampered by limited articulation), but is another solid and un-dated generic guy.
In this next picture on the left is a character (don't know the name) from the recent Speed Racer film line. These figures run a little short, but the scale looks perfect. He's just a short guy.
Give the outfit, stature and facial features, I think this guy would make a terrific gangster character or possibly a government bureaucrat. The lavender tie and handkerchief need to be repainted (red would look fine), but otherwise he's good to go.
In the middle is the Bruce Wayne figure from a recent line of Dark Knight 3 3/4" figures. They suffer from limited articulation (but thankfully have knees.) and this Bruce figure, though a little skinny, could be used for countless Indy-world characters.
In the next pic, Bruce is sporting a spiffy "trench coat", courtesy of the Golden Compass Sam Elliot figure. Sam is way too tall to fit in with this bunch, but his jacket makes a great trench coat for just about any of these scale of figures.
From another part of Gotham City comes Commissioner Gordon from the DC Infinite Heroes line.
The one on the left sports a cut down version of Sam Elliot's coat, making a perfect blazer.
I think Gordon is a great base for a Donovan figure and has fairly good articulation with both knees and elbows. Many other possibilities with this one.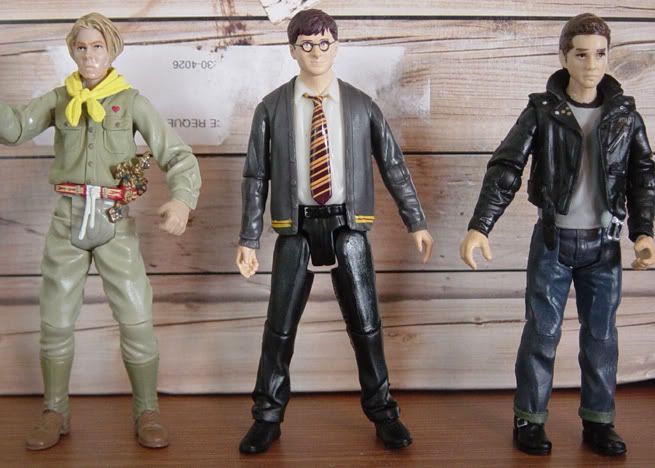 There is an outstanding line of 3 3/4" Harry Potter figures by PopCo which are not available in the United States. I got this Harry on ebay and am very happy with it.
Good articulation all around. For customizers, a few dabs of paint could transform Harry into one of Indy's students at Marshall (or is it Barnett?) College. Remove the sweater and you have a solid male torso with tie for many other possibilities (possibly paired with the Sam Elliot coat.)
Last but not least is probably the closest thing we'll ever get to a Toht figure - the body from the Comic Con exclusive Black Suit Cobra Commander figure.
These babies are widely available, but terrifically expensive, on ebay. The blue blazer version is even more rare and pricey.
Here I've put on the head from one of the Imperial Officers EE pack and presto - instant Marcus or Donovan or any other character.
With the strong possibility that Toht himself may never see the light of day, this figure will probably only go up in price, but it's a terrific body with loads of custom potential.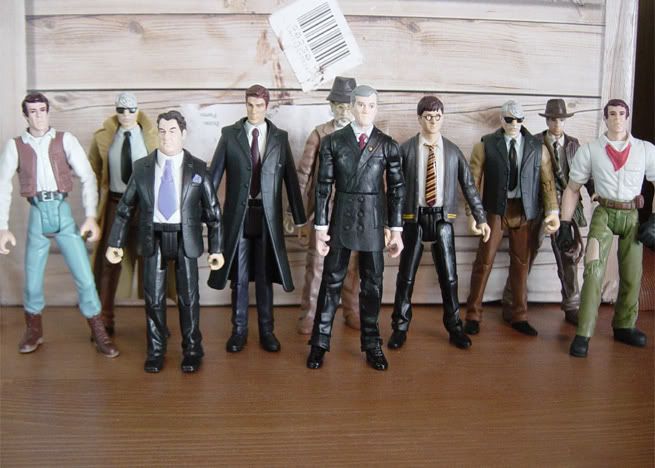 And finally a group shot!