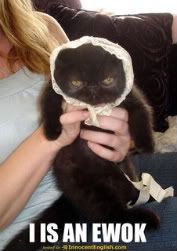 - Sat Dec 29, 2012 2:44 pm
#125799
I was in a local sci fi shop today and i observed two families, with two lil boys in the SW section. The first was a South African family and the young SW fan was only interested in the Vintage Collection and bought 3-4 figures including a couple of obscure characters. But the other family and their lil boy i found more revealing, he was 10 and had a lot of money, his Dad said you've only £150 left to spend, must have had some stuffed Xmas cards!
Anyway he looked at only the CW's and Vintage ignoring the MH, he then saw the Vintage figure 3 pack and exclaimed loudly 'BOBA FETT AND HE'S BENDABLE DAD!', he commented on the Tusken and Snaggletooth but then went on how Fett was bendable. Which he bought for £24.99, thought i feel that is too expensive myself. This just reminds me that there are still a lot of kids just like us, who love the obscure characters and like the detailed articulated figures.
Now i've said it before, i feel this is just an excuse from Hasbro to cheap out and i feel sometimes some people are trying to justify Hasbro decisions to themselves rather than seeing that some of todays kids are us as we were when we were little; not all kids want limited figures. We wanted obscure characters and it seems they still do and who out us back in the 70s and 80s if at the age of 10 would have wanted the vintage kenner Fett if they had offered a articulated one too, if anyone says their 10 year old selves would have picked the former then your a lil liar lol.
If i wanted figures like Rebels and Legends series i'd build a time machine. Even if i did want them, i'd probably still need a time machine..