Hey guys!!
My name is Mike M. i am 27 yrs old and have been a huge action figure fan for as long as i can remember.
also! i'm a huge fan of yakface! have been for years checking out several customizers, the news!! the updates! the upcoming action figures and pretty much anything related to THE WARS!!!
I have been a star wars fan since my mother put a YODA mask on my face when i was like 1 years old hehe...Over the years learning about collecting, trading and selling action figures i decided to customize my own! this started around or just before the release of attack of the clones, not only customizing star wars figures but also marvel and gi joes too name a few.
I later discovered it was a popular underground-art form which i could not get enough of...later i would sell alot of these figures on ebay to make enough dough to continue my personal collection of ongoing action figures and maybe one day leave my kids a good inheretance lol!! (granted if dont decided to be buried with all of it so kids be good to your parents)
so without further boring stories here it is my very first post on yakface!!! several of my star wars customs of the past few months will be added i will continue to add more as i can.
to yakface i am not advertising or spamming!! please check out my myspace page add me as a friend!! btw? btw yakface.com you guys are on facebook why not myspace? lol!!
myspace.com/mercury_art_studios
thank you for your time guys and i will continue posting as much as i can hope you enjoy!!
Mike Moreno
mercury art studios
FIRST OFF I WOULD LIKE TO START WITH ONE OF MY NEW FAVORITE CHARACTERS
the game has not been released, the name is yet to be known and alot of customizers are tacking him down so i took a crack at him.
the new unknown SITH LORD from the old republic
head=viper 25th head
mask=flash and partially sculpted
body- flash roc gi joe
armor-partially sculpted
legs-fodder gi joe
extra details glued on.
cape-lord maleval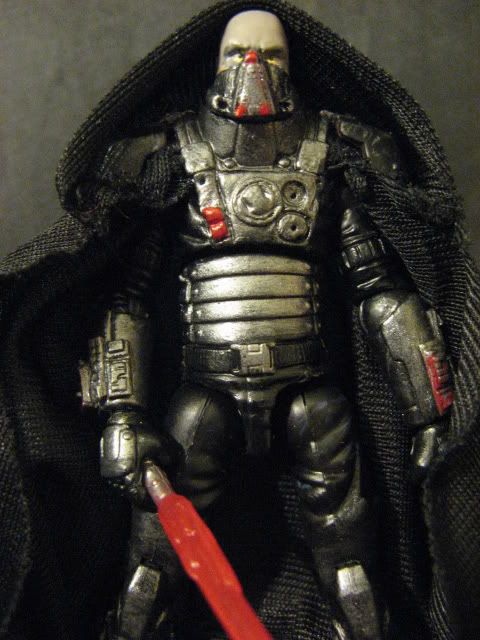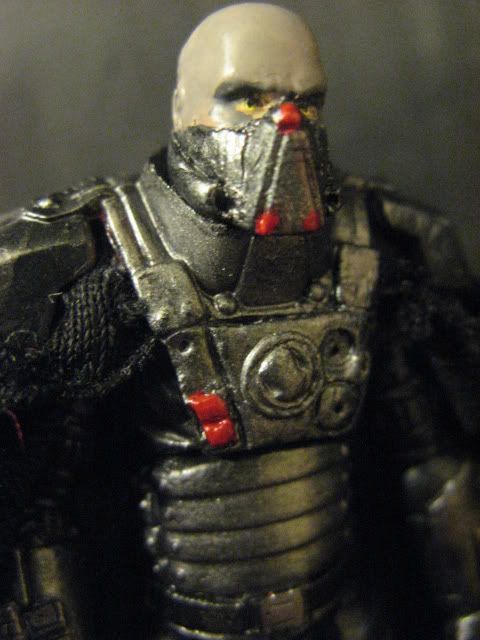 I GOT TO SAY THIS!! DARTH KRAYT IS JUST THE EPITOME OF BAD ASS AND I SINCERELY BELIEVE HE WILL COME BACK FROM THE DEAD IF NOT WELL I MANAGED TO SCUTOMIZE THIS FELLOW ANYWAY
DARTH KRAYT
BODY-ROADBLOCK GI JOE
HEAD - ASHARAD HETT
ALL ARMOR AND HELMET WERE SCULPTED
THE HELMET STAND WAS SCULPTED OVER A BASE FROM A SITH EVOLUTIONS SITH DROID.
FEMALE DARTH KRAYT
Thi is my what if? Version of lord krayt since i totally dig this character i decided to make another version
body- ventress comic
arms=maris
ALL ARMOR AND DETAILS SCULPTED WITH AVES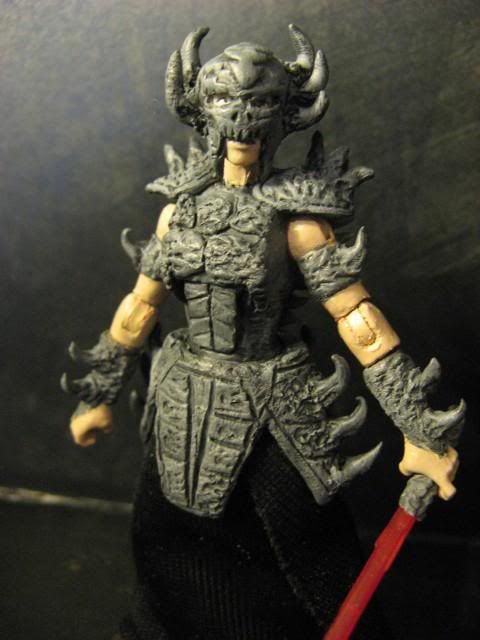 DARTH NIHL
BODY- UGHA WARRIOR
HEAD-DUKE GI JOE RESCULPTED HAIR
ARMOR AND DETAILS ALL SCULPTED WITH AVES
SABERSTAFF SCULPTED
SKIRT HAND SOWN AND TRIMMED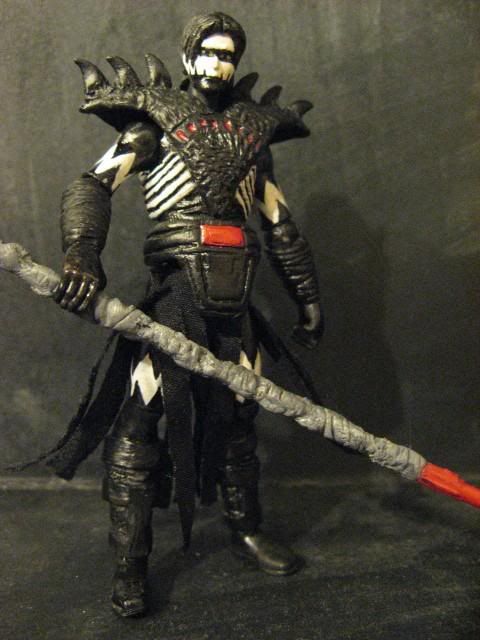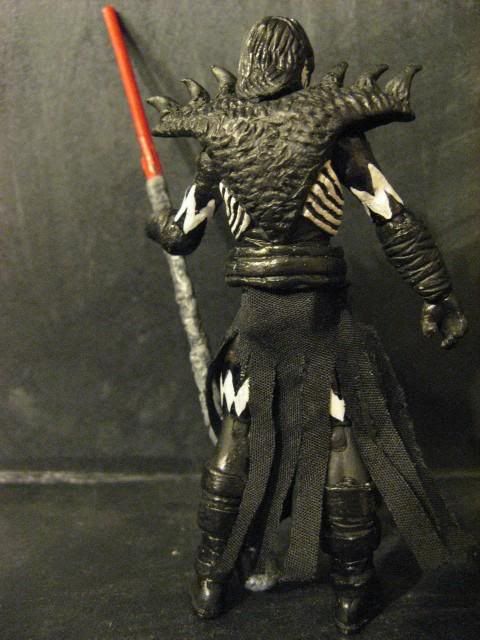 DELIAH BLUE
BODY- MARIS BROOD
UPPER BODY- SOME FODDER PART I FOUND ON EBAY
HEADPART OF BODY ABOVE IF YOU KNOW WHAT PARTS PLZ LEMME KNOW.
DETAILS LIKE BELT BUCKLES AND JEWELRY SCULPTED
This one was not one of my best since she was not fully articulated, however i am currently working on a much better upgraded version of her with her brown outfit possibly just do both using gi joe based characters since they are working amazingly good for us customizers.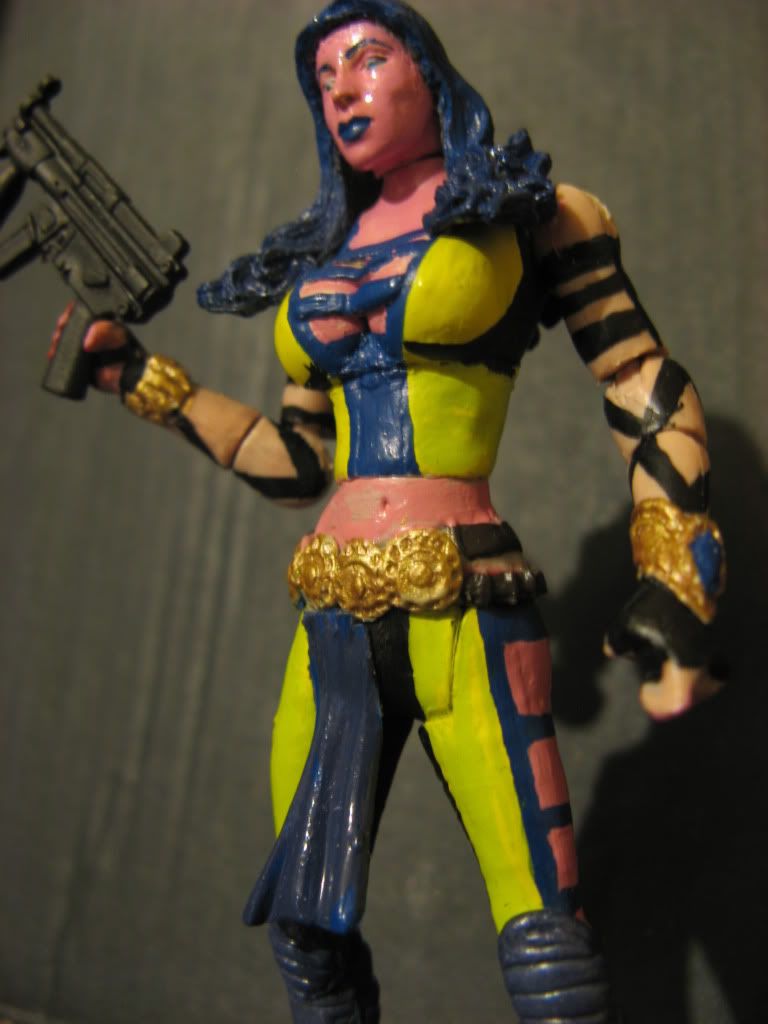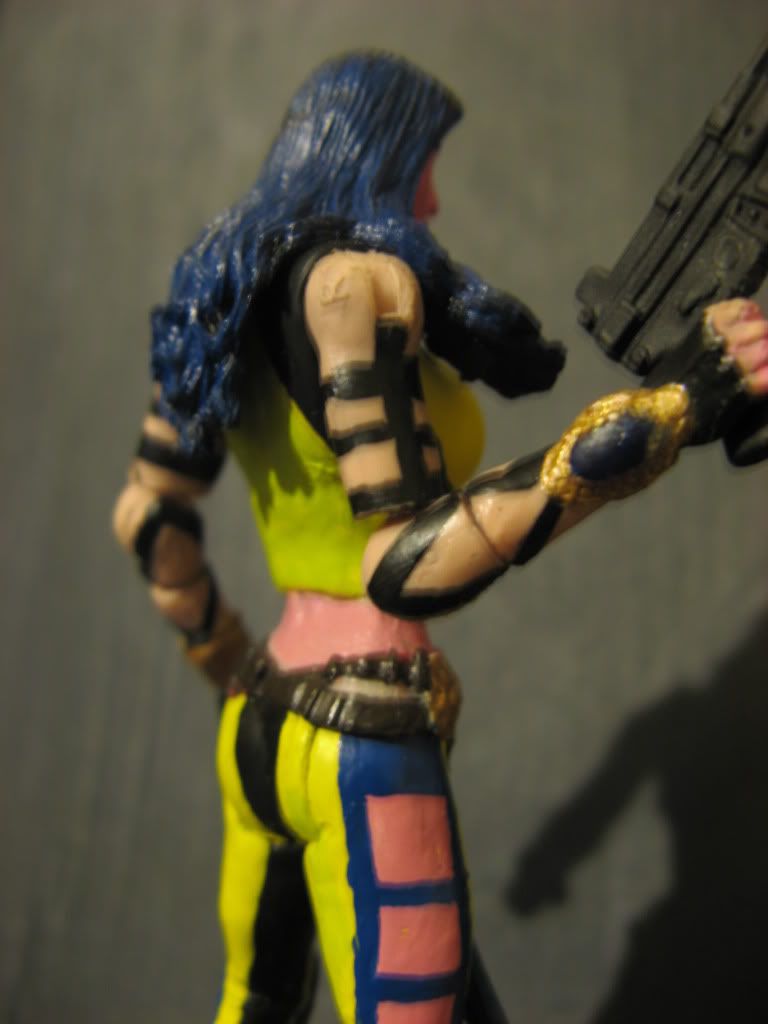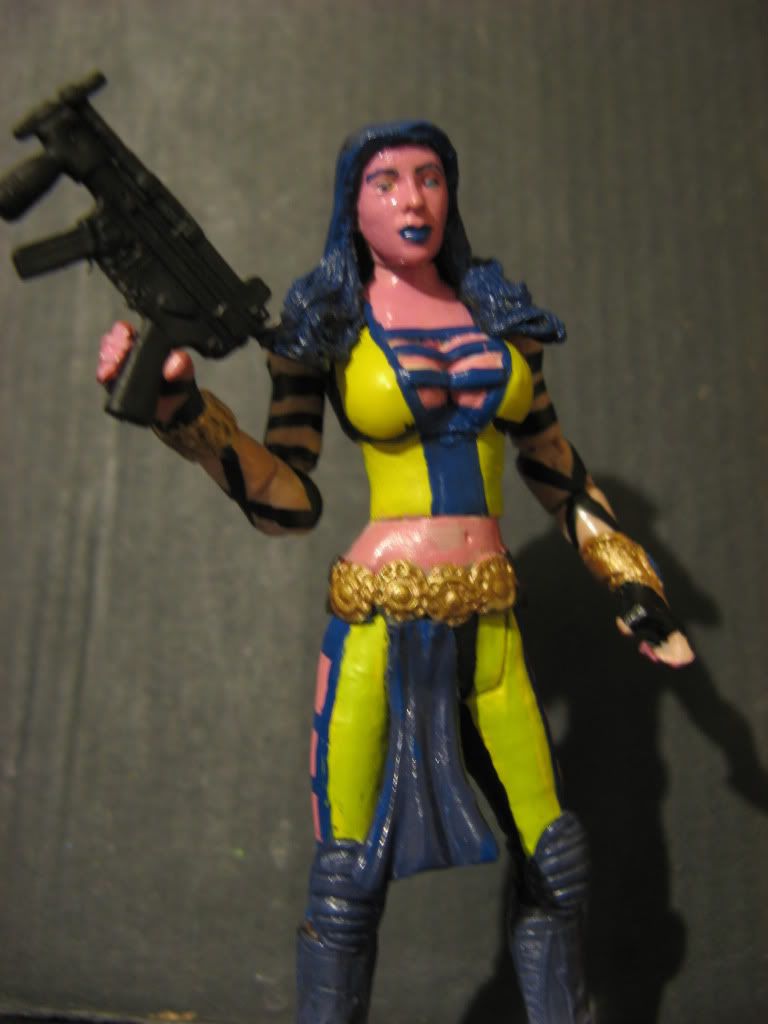 darth andeddu
body- ugha warrior
head- army of darkness deadite
sculpted-sash
BOUNTY HUNTER WOOKIE
BODY-CHEWIE MCQUARRIE
LOWER LEGS- WOOKIE WARRIOR
LOWER ARMS WOOKIE WARRIOR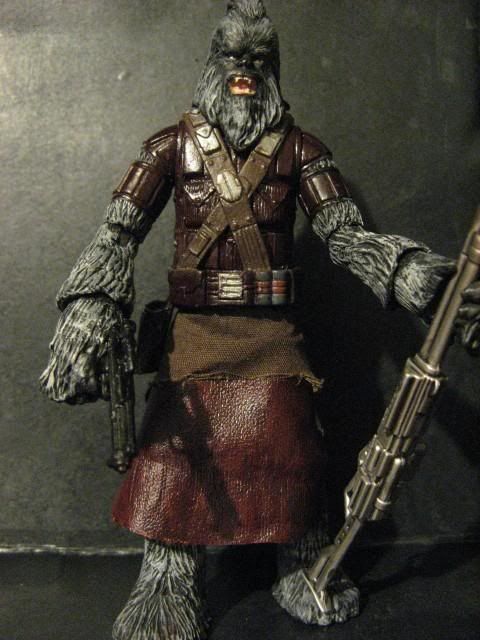 THIS ONE IS AN OLD VISAS MARR I AM CURRENTLY WORKING ON A NEW VERSION
VISAS MARR
BODY-DARK WOMAN
HEADRESS-SCULPTED
HAND SOWN DRESS
AQUALISH IMPERIAL KNIGHT
antares draco=body
head and hands=po nudo
these characters are original characters
sabine & chakka
sabine is a zeltron species thats why i went with the blue hair and the pinkish skin, chakka obviously a wookie as sabines bodyguard
sabine is real basic and easy to customize
head- scarlett 25th gi joe
body= otc rabe
minor sculpting was done to the neck upper section of the dress
chakka
head=potf chewie sote
body=chewie mcquarrie
feet cut offs from random wookie attached, glued and resculpted fur to loook even.
darth zannah
body = 25th gi joe baroness
head-dunno bought it along time ago if anyone knows hit me up please i totally loved it!
belt and skull pauldrons were acquired from a fodder lot lemme know if u know what they were from.
cloth skirt-hand sown
darth cognus
head sculpted
body-scarlett gi joe25th
pauldrons fodder.
skirt old jabba dancer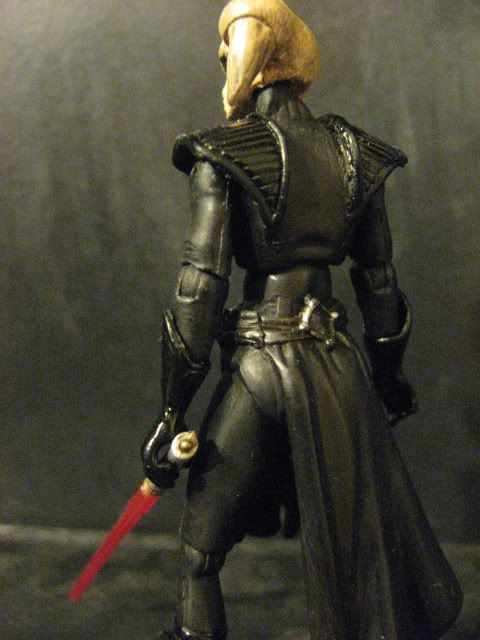 darth millenial
head-resculpted shipwreck gi joe
body-sidious
chains-fodder
pauldrons=fodder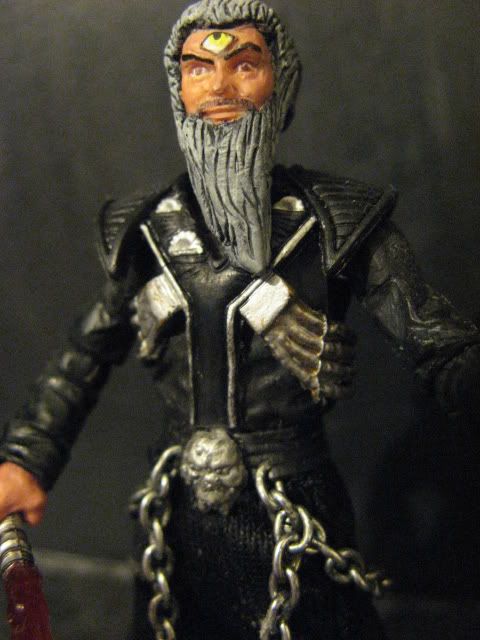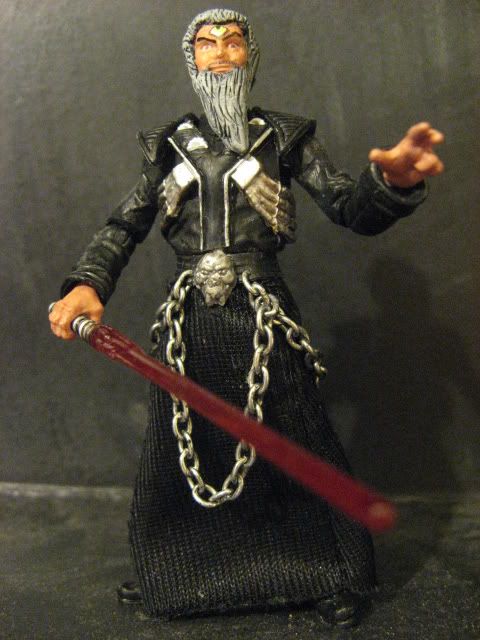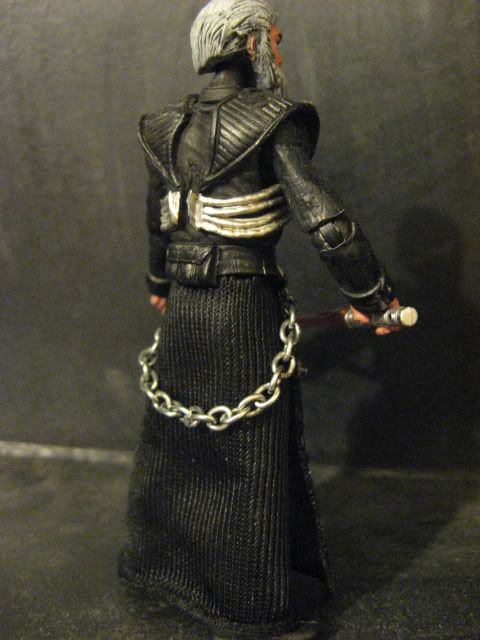 darth wyyrlok
body and head= mas amedda rots
armor sculpted
cape=darth vader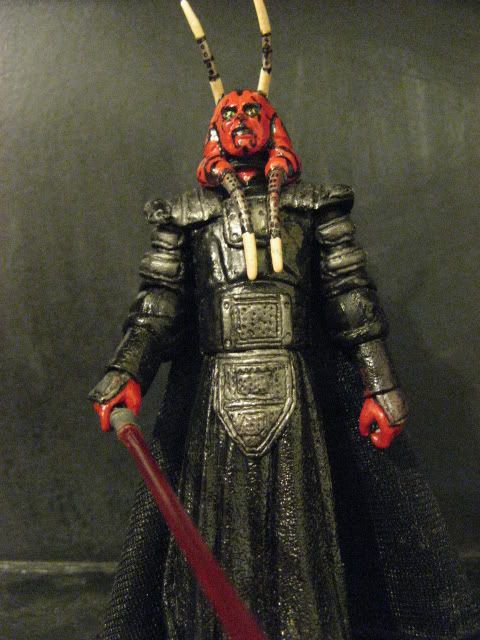 original characters NISSY & KAFTAK
NISSy was named after my baby sis she loves my work and always cheers when i get a new proyect well last halloween she put this crazy blue wig on for a 80s fiesta we threw so based on that i decided to make these guys.
nissy is a zeltron species bounty hunter
kaftak is nissys talz loyal companion (kinda like a han and chewie)
head-fodder with resculpted 80s style hair
body-pirates of the caribbean 2
arms-baroness diver
kaftak has additional articulation on his wrists
body - muftak
shield-fodder piece
blaster= random 6 inch scale gun.
goggles- fodder from 6 inch figure
webbing= massiff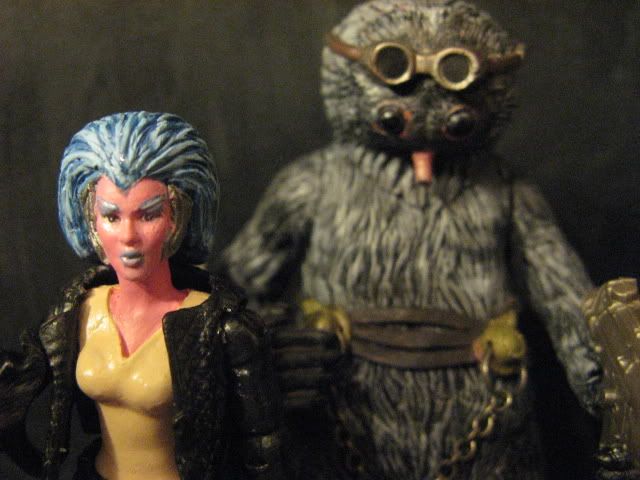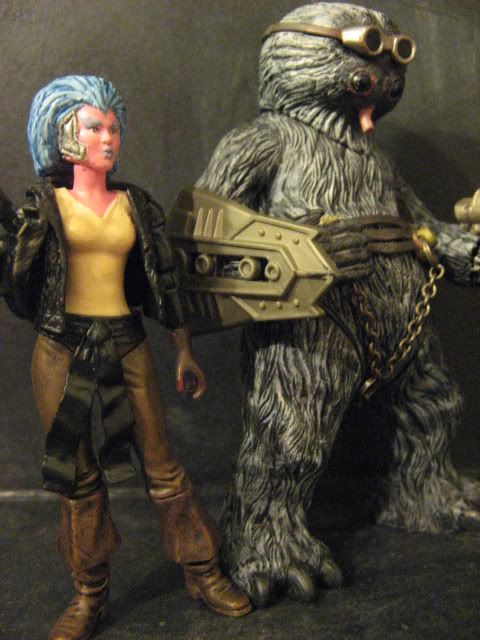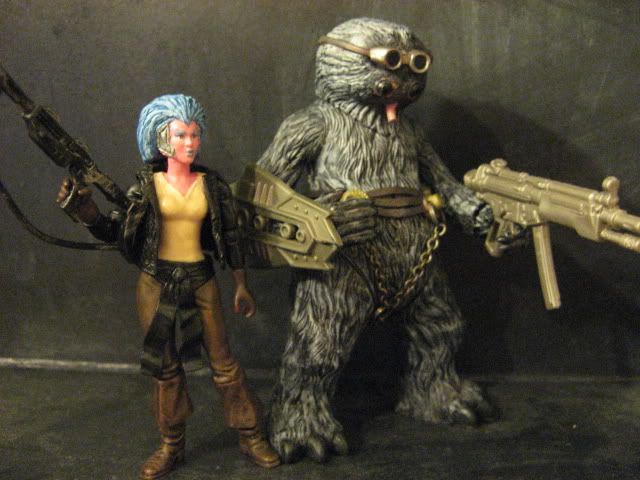 emperor roan fel
body-po nudo
armor sculpted with aves apoxie
cape-walmart fabric (dont be ashamed to spend 10-20dls on fabric guys most employees on the waly world dept are older ladies)
head-bbi xdsoldier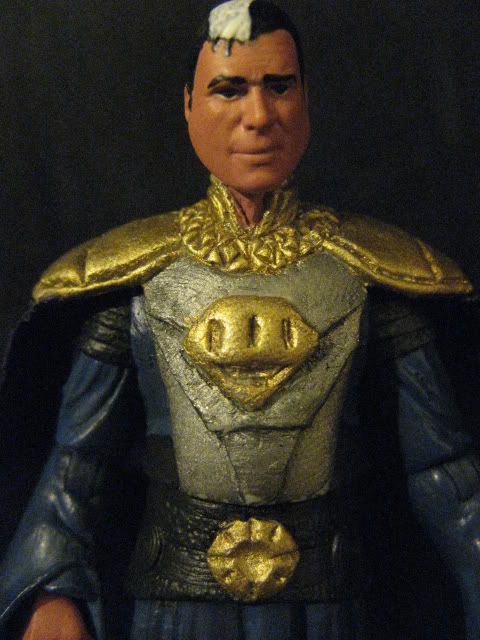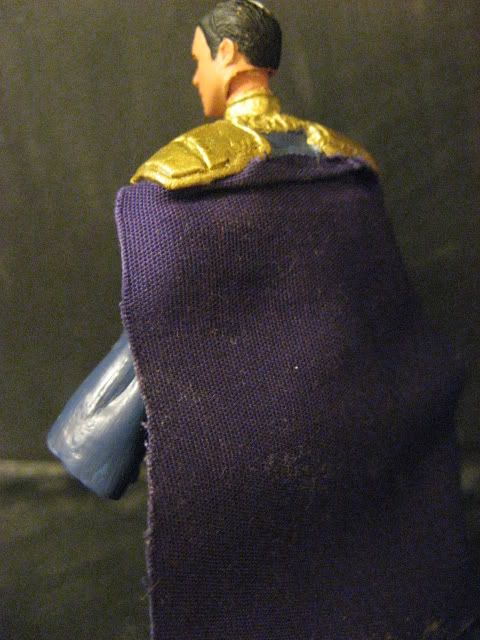 emperor roan fel imperial knight armor
head= bbi soldier
body- antares draco or ganner krieg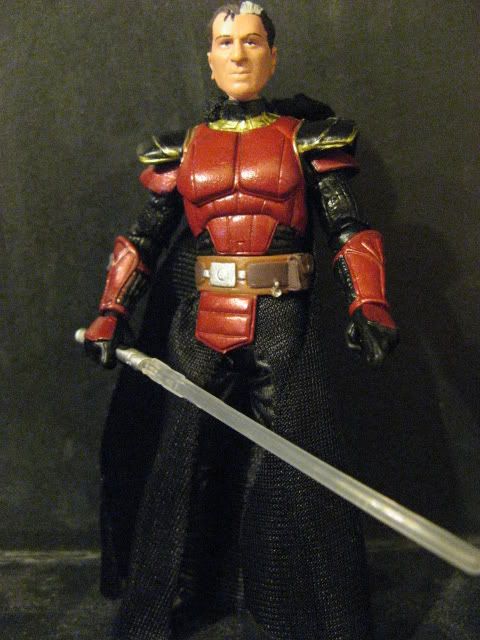 alright this one is a little of the wall but since we all love harrison ford i had to make the blade runner im a huge fan of that movie and i just read the sequel to the book titleD BLADE RUNNER 2 which was pretty good considering it was not written by the original author but inspired in the book i decided to recreate RICK DECKARD
HEAD= HAN SOLO W/RESCULPTED HAIR
BODY-INDY
TRENCH COAT- CADE
TIE WAS SCULPTED ON
GUN-FODDER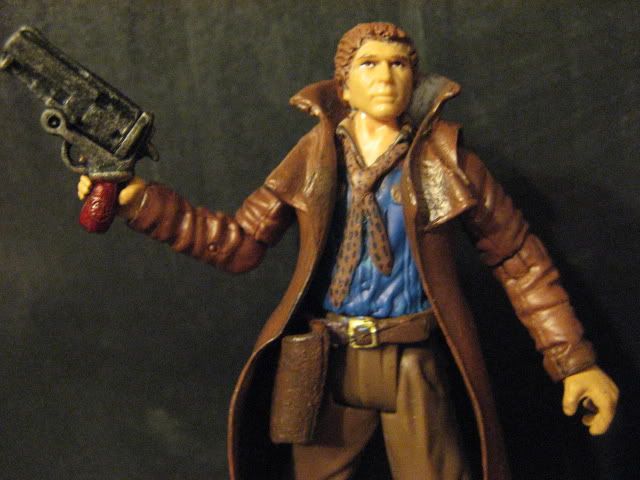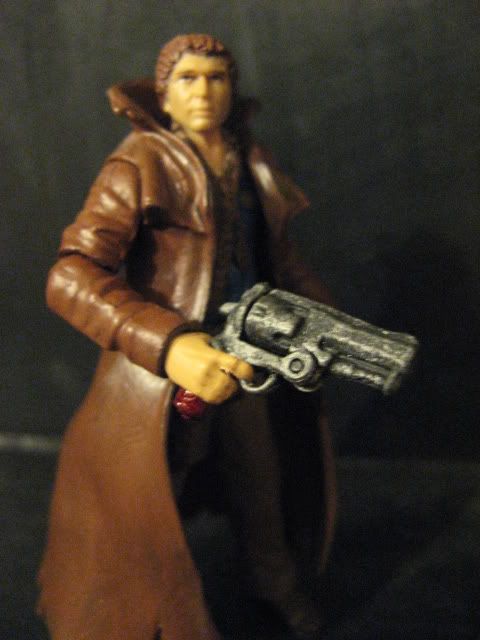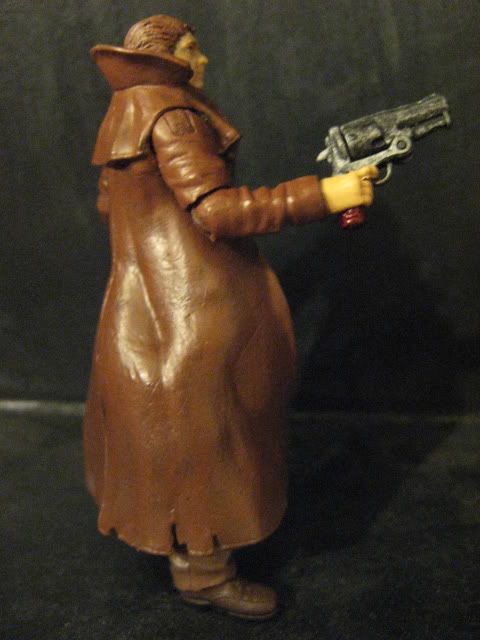 TENEL KA DJO
HEAD- PIRATES POTC ELIZABETH
HAIR-FODDER
BRAIDS=LEIA SLAVE
ARMS AAYLA SECURA
BODY- LUMINARA UNDULI
CLOTHSKIRT HAND SOWN AND TRIMMED
LIGHTSABER HILT RECULPTED TO RESEMBLE RANCORS TOOTH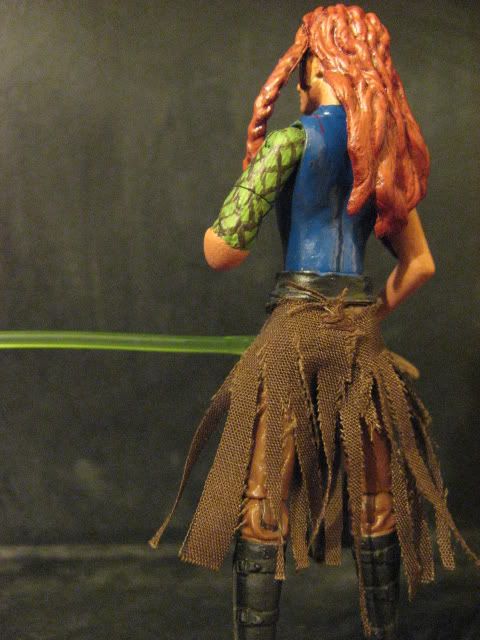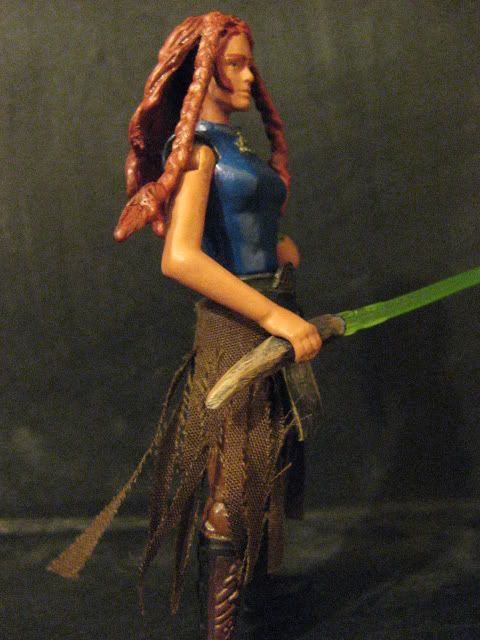 ORIGINAL CHARACTERS OLIVER CASS AND TIKI UDI KANDI
OLIVER CASS IS A HUMAN SMUGGLER AND HIS GIRLFRIEND THE CEREAN BOUNTY HUNTER TIKI UDI KANDI
OLIVER CASS
HEAD-BUZZER GI JOE25TH
VEST-POTF HAN
BODY-MCQUARRIE LUKE
ARMS GI JOE
TIKI UDI KANDI
HEAD - RESCULPTED LADY JAYE
BODY=LADY JAYE
UPPER BODY=FODDER CAME W/ZANNAH HEAD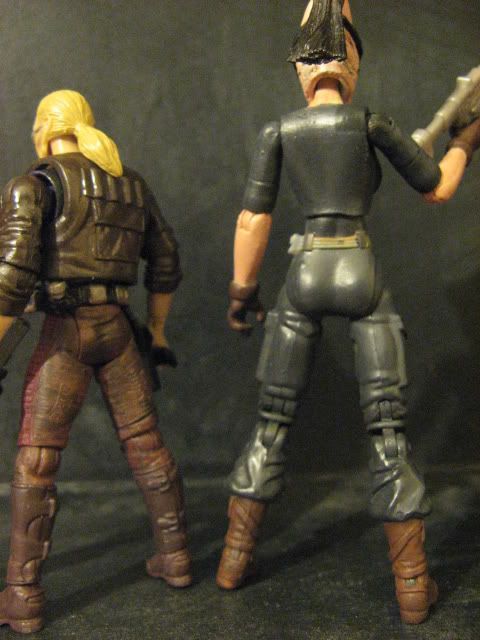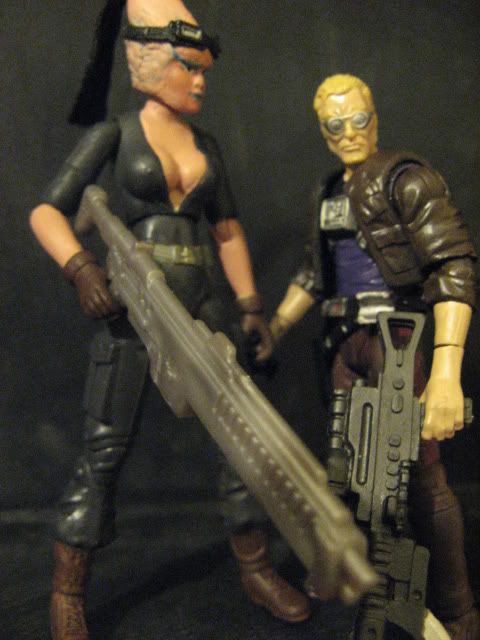 ZAYNE CARRICK
HEAD-GI JOE 25TH XAMOT RESCULPTED HAIR
BODY- TOL SKORR
PONCHO-SCULPTED W AVES
LEGS-DC UNIVERSE TODD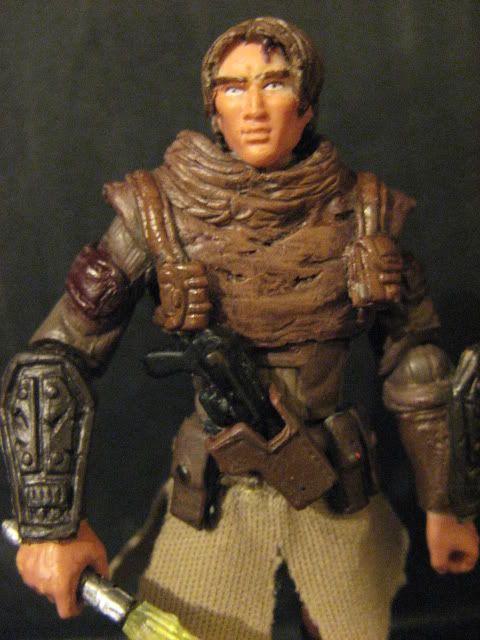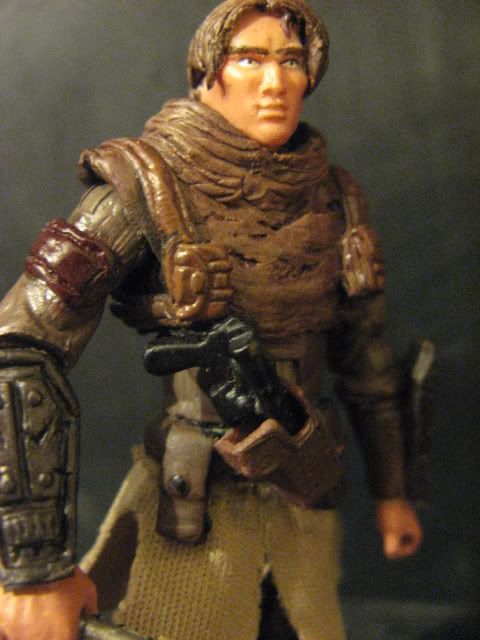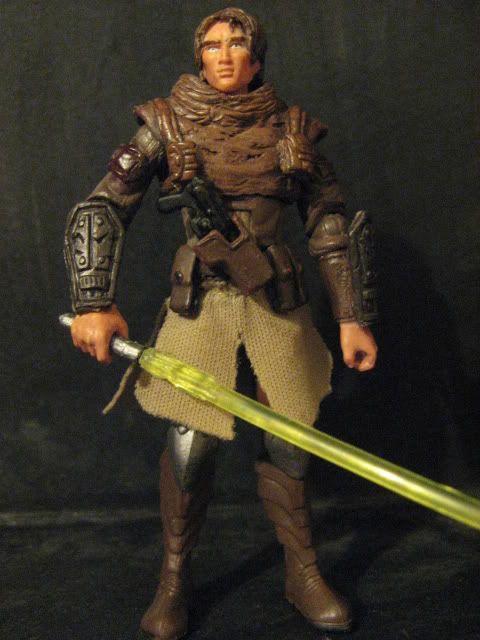 ROGUE JEDI
BODY-OBI WAN
LEGS=FODDER MAYBE FELTIPERNS
HEAD-OLDER GI JOE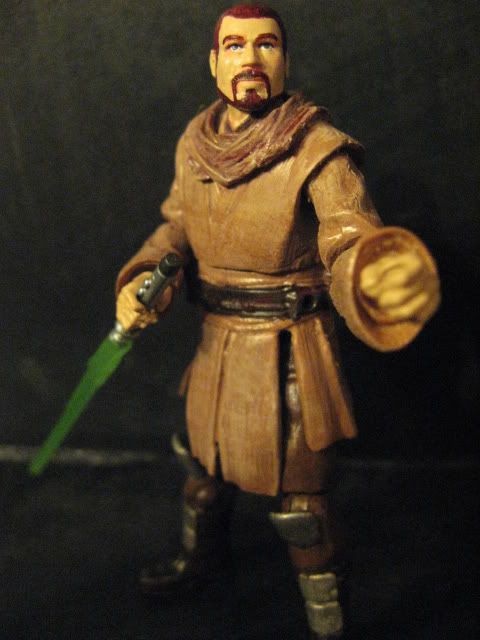 aayda and sade coruscant citizens female nautolan and female aqualish
aayda and sade are enjoying the party life of coruscant city nights
sade is aaydas best friend and side kick, both of these gals are all about partying their main source of income is information, with all the best clubs and bars in town there is alot to be learned from the scum and villany roaming their grounds, so whatever they hear that may bring some credits their way is a done job.
aayda
head-kit fisto resculpted head and lekku
upper body- bultar swan
arms-scarlett gi joe
legs-fodder
purse=gi joe
sade
head and hands- po nudo w/sculpted hair
body - marion ravenwood
jacket- han solo
arms fodder
purse-gi joe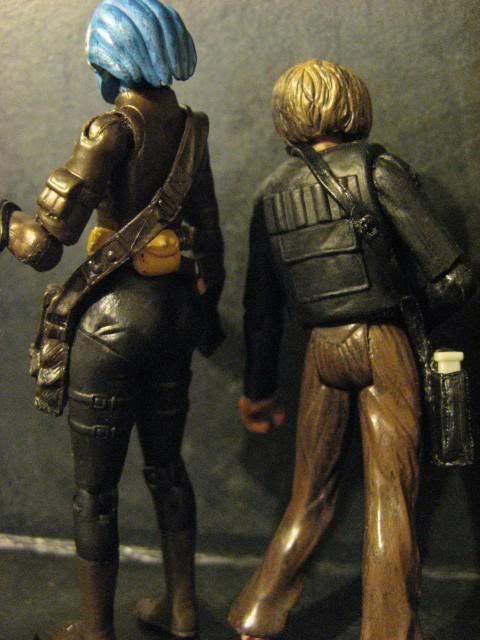 ALLRIGHT GUYS THAT IS IT FOR NOW IF YOU WANT TO SEE MORE STUFF OR IF YOU ARE INTERESTED IN COMMISSION WORK PM ME OR CHECK OUT MY PAGE.
PLEASE FEEL FREE TO COMMENT I WOULD LOVE TO HEAR FROM EVERYONE AND PLEASE STAY TUNED I GOT TONS MORE COMING,
====================================================================================================
Hey guys!
Sept 20th update!
here i have some new stuff for this week...some masters of the universe stuff some marvel characters and a couple of gi joes i will also be updating on some more stuff being worked on this week. so please stay tuned feel free to comment as usual.
Also i would like to take the time to thank the YAKFACE STAFF for putting me on the MEGA CUSTOMIZER SPOTLIGHT!!! I would have never expected this, not only it is an honor but a huge deal as a fan!! for me to share my art and recipes with you is the least i can do specially for the mad KUDOS coming from all over not too mention the e-mails i have received from new customers and fans...please keep coming back for more i will be posting as much as i can and sincerely look forward to hear your opinions and comments...if you ever need help or have questions dont hesitate to ask.
take care everyone and hope you like this weeks update.
sincerely
Mike Moreno
The first update its my first version of JEDI MASTER VERGERE this one will also be entered into the STAR WARS WOMEN CONTEST (FINGERS CROSSED)
HEAD-ONE OF A KIND SCULPTED HEAD WITH AVES
BODY-WIOSLEA
SKIRT AND BELT FODDER
I am currently working on a new version of vergere which will be alot more detailed and hopefully alot better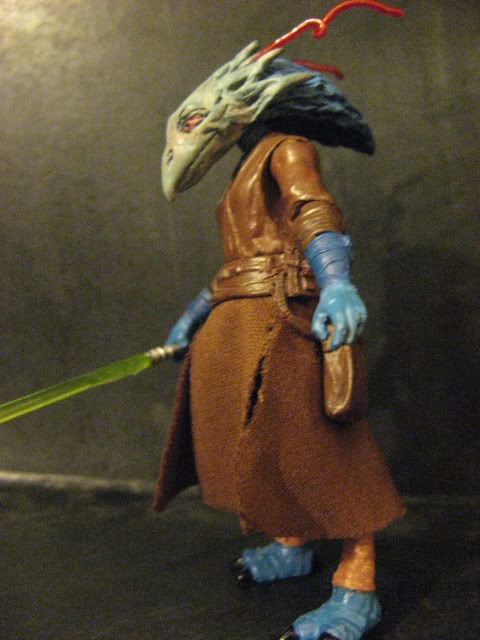 My second custom for this week is Darth Zannah VERSION 2.0
HEAD=elizabeth POTC
HAIR FODDER
BODY=BARONESS
SKIRT-FODDER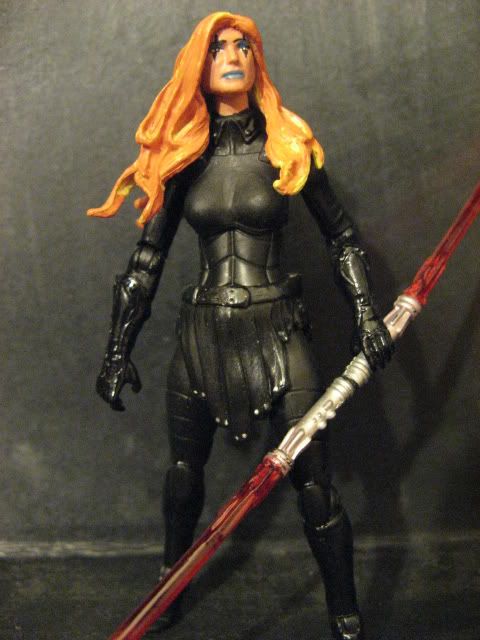 MY NEXT DUO IS KALO AND STARK ORIGINAL CUSTOMS
KALO THE BODYGUARD
HEAD, LEGS AND HANDS PABLO JILL
UPPERBODY AND ARMS LAVA MINER
STARK THE BUSINESS MAN
BODY STAR TREK BODY
HEAD- SHIPWRECK W AVES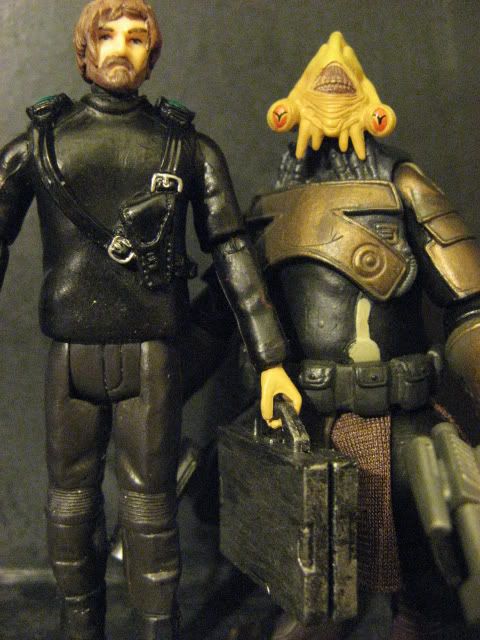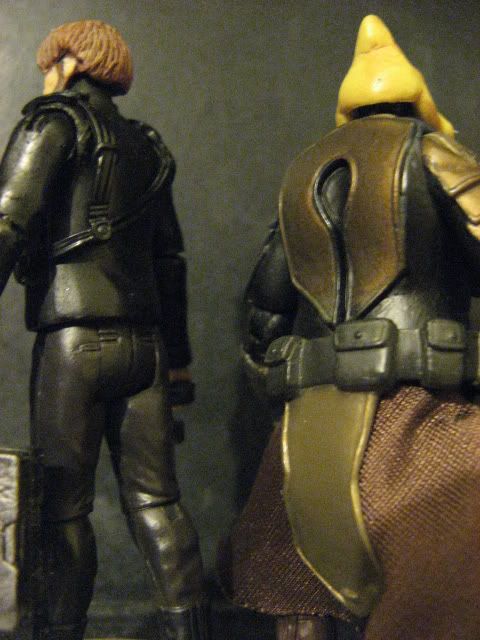 This one is one of my personal customs i named him ASH RIDLY
BODY-HELLBOY
HEAD-BREAKER GI JOE SCULPTED HAIR AND EYE PATCH
ANAKIN ROBE
FODDER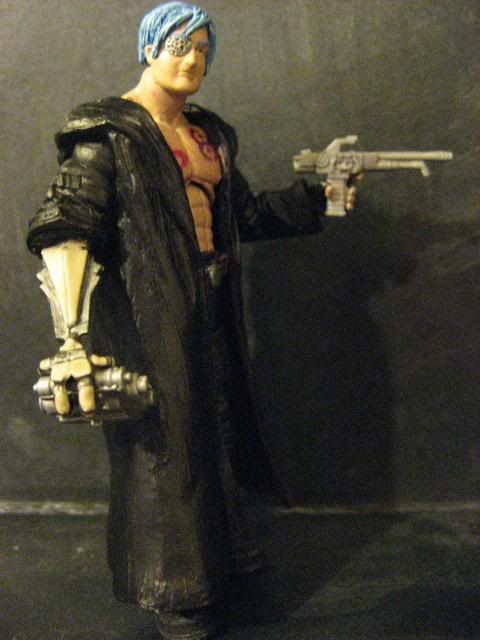 DARTH MOLOCH
BODY-HELLBOY FIGURE
HEAD-POTE SNITKIN
DARTH RAVENOUS
HEAD-PRUNE FACE
BODY-DOOKU ROTS
ARMS SIDIOUS W/ GI JOE PARTS MODDED
CLOTH SKIRT
DARTH LUNO
FIGURE VOLVIFF MONN
SCULPTED ARMOR WITH AVES AND CLOTH SKIRT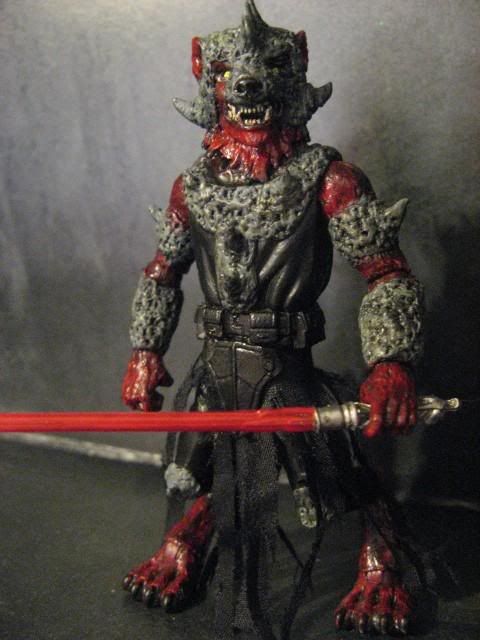 RAYVE MUNDO THE DEATH STICK DEALER
HEAD=MODDED AND RESCULPTED KI ADI MUNDI
BODY =DESTRO
DEATHSTICKS FODDER
I am a huge marvel and Dc fan and have also been customizing them for my personal collection for a very long time, however due to numerous commissions and requests i have decided to start customizing these to sell and help expand my collection some more.
These next customs are not star wars related here is my original IRONMAN IN HI-TECH SUIT i made this one about a year ago this is part of my personal stash being auctioned off this week im a huge iron man and dark knight fan so i decided to combine these 2 and this is what i got
Head= reborn ironman
body- darkknight movie masters
chest piece crzy glue cap
shin guards and hands-ultimate iron man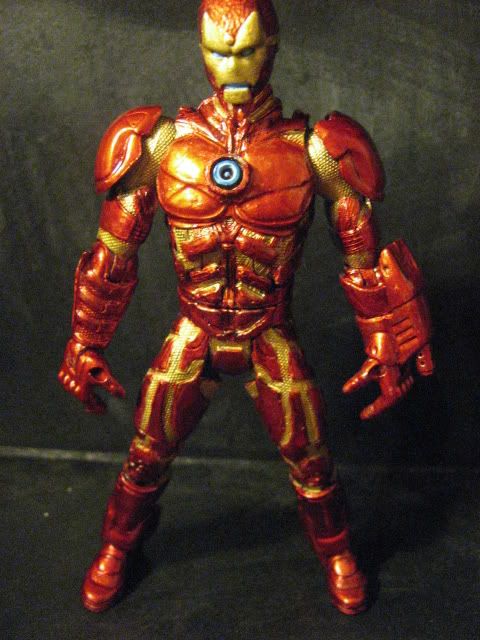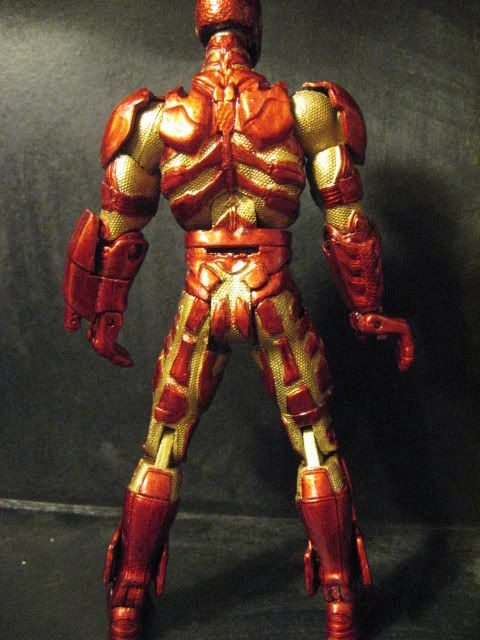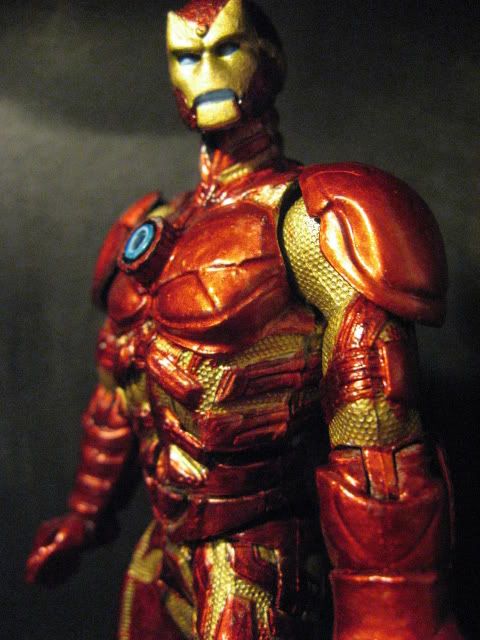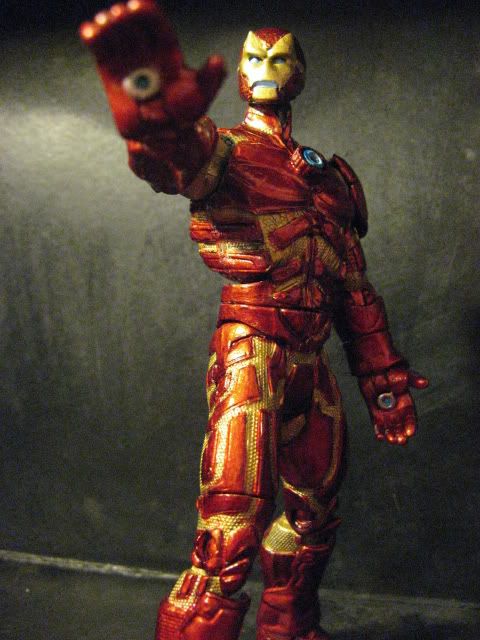 next is DAREDEVIL another one of my favorite characters
HEAD AND BODY MOVIE MASTERS BATMAN BEGINS BATMAN
CUSTOM BILLYSTICK AND HOLSTER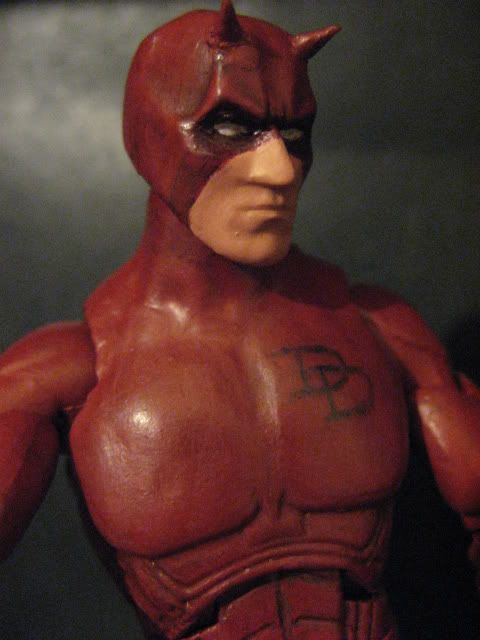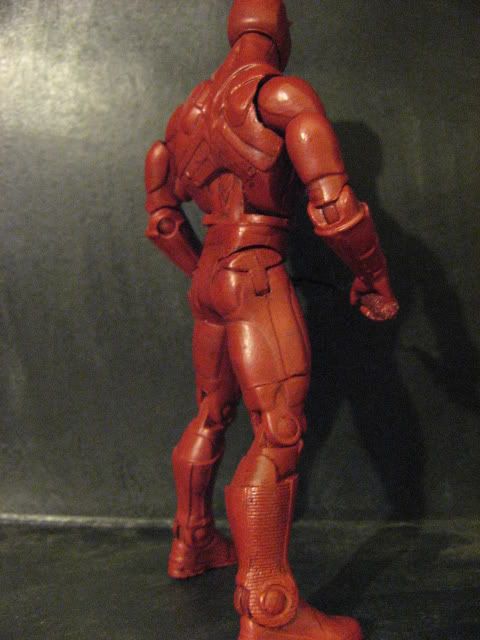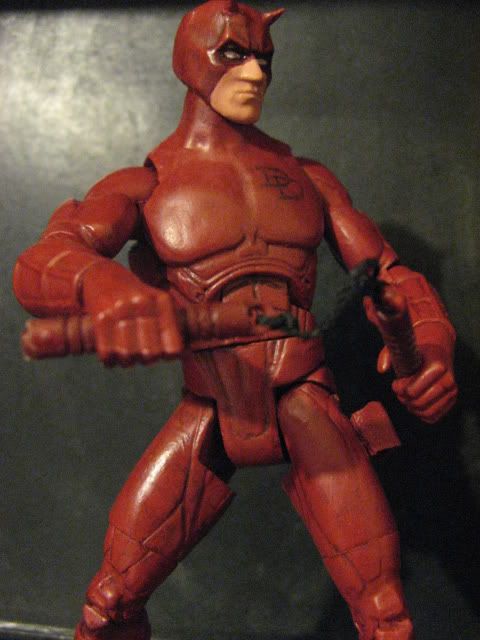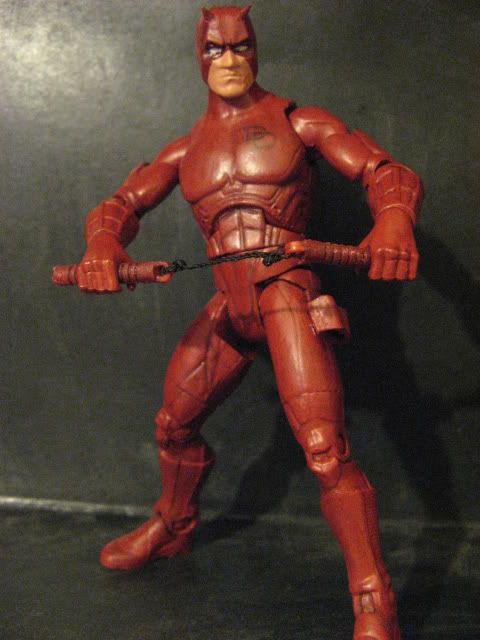 Besides being a fan of comics i absolutely love customizing stuff from the 80's like thundercats and masters of the universe recently i created a Hordak action figure inspired by a friend of mine,.however i decided to take mine to a whole new level with extreme detail and a unique look that would say "that's mike's work!!"
so here we go hope you enjoy my very first bad guy in the MOTU category HORDAK
HORDAK
HEAD WAS HANDSCULPTED WITH AVES
BODY-WRRALL
CAPE-DARK KNIGHT MOVIE MASTERS
EMBLEMS AND ARMOR SCULPTED WITH AVES
STAFF IS ALSO CUSTOM WITH SOME FODDER AND A STIR STICK FROM APPLEBEES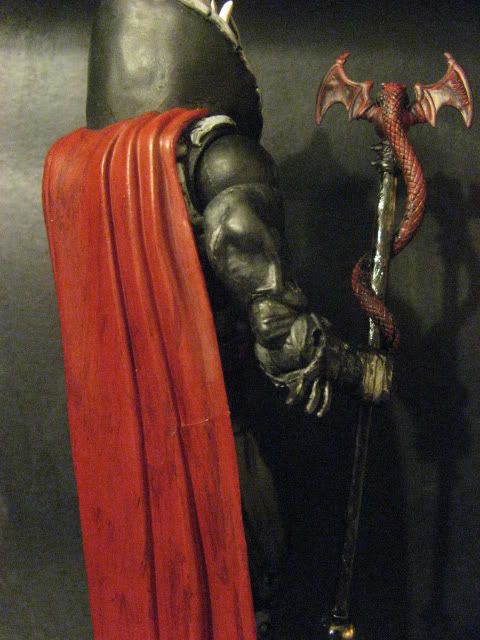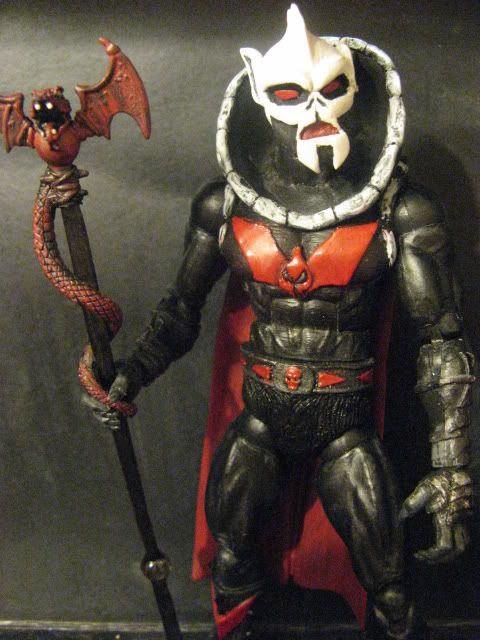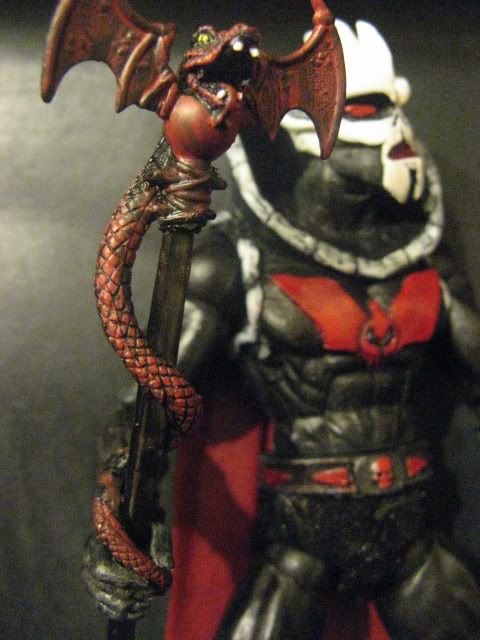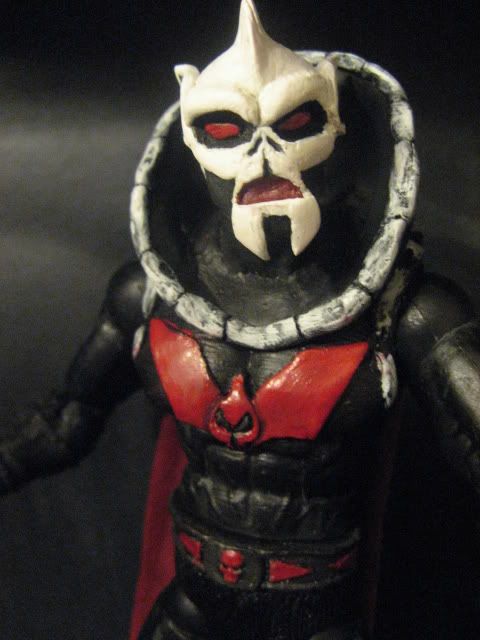 I AM ALSO WORKING ON MY SECOND VERSION OF THIS GUY WHICH WILL BE MORE ORIENTED TOWARDS THE CARTOON SO KEEP AN EYE OUT FOR HIM NEXT MONTH.
Keep the comments flowing i hope this weeks update was good for you guys take care!!
========================================================================================================
Alright OCTOBER is a seriously insane month every year as far as customizing goes for me, i get all the GORE fans and comic book fans ask me for insane stuff but between commissions and such it is seriously hard to keep up with everything, updating myspace page, forums, building web-page, customizing,answering e-mails, parenting (i am a new DAD well at leats 10 months ago and she is the best thing in my life) anyway so here is the last month of custom creations ranging from zombies, Gi joe characters based on movies, video games, star wars sith lords based on books and much more.
I hope you will all enjoy these customs i am really looking forward to hearing more comments from everyone don't be shy.
ALSO I AM WORKING ON THE SECRET SANTA CUSTOM FOR X-MAS I AM AMAZED I DONT SEE ALOT OF YOU CUSTOMIZERS CHIMING IN THERE SO COME ON PEEPS LOOK FORWARD TO ALL THE VOLUNTEERS.
until the next update
Mike
DARTH PLAGUEIS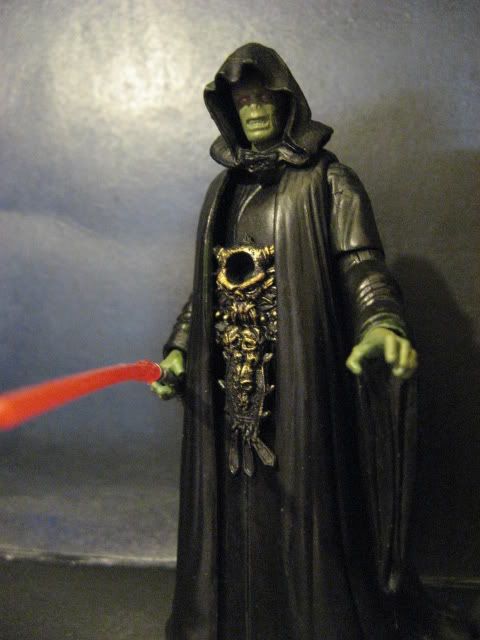 DARTH PHOBOS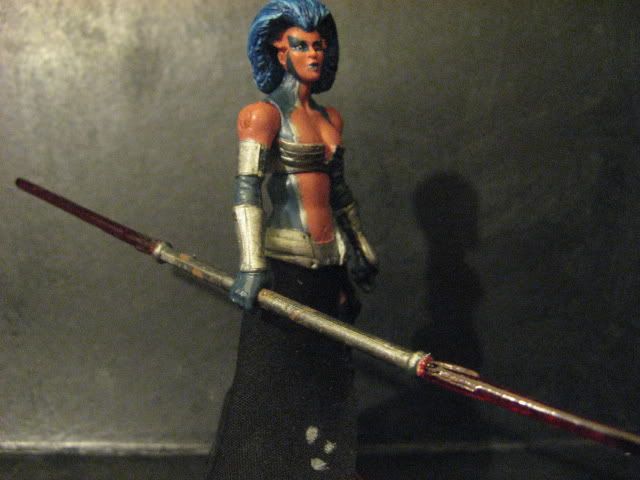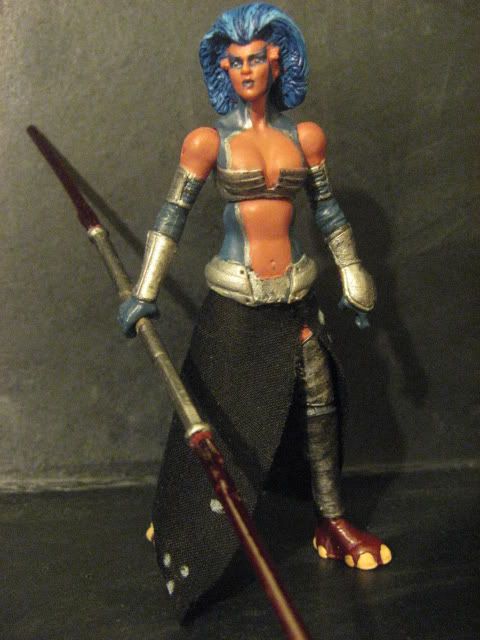 DARTH VECTIVUS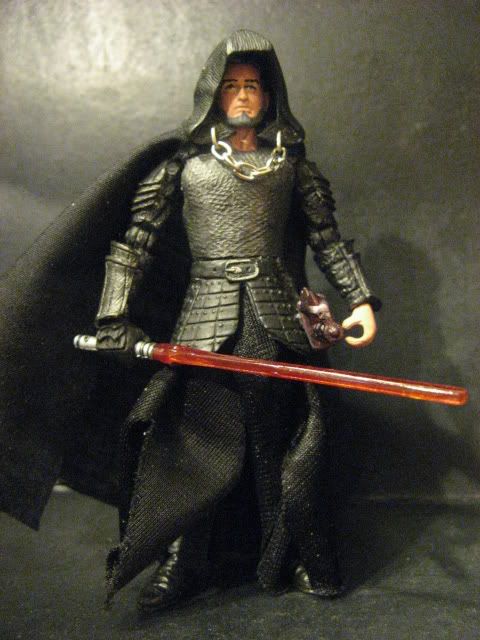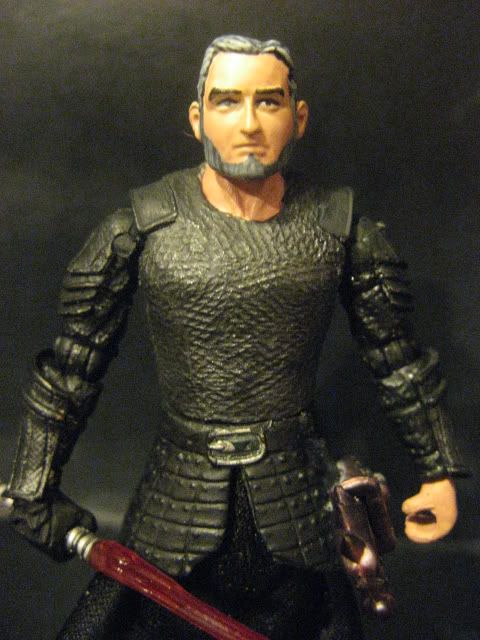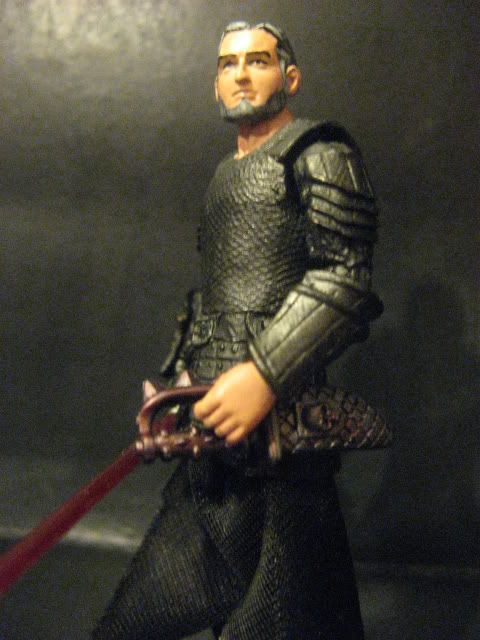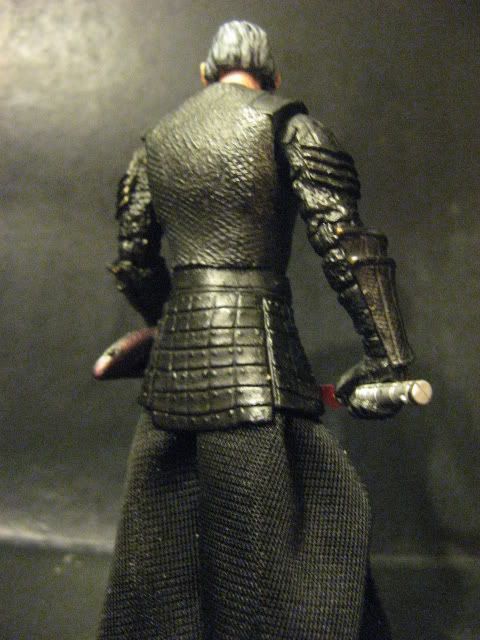 TAHIRI VEILA DARK SIDE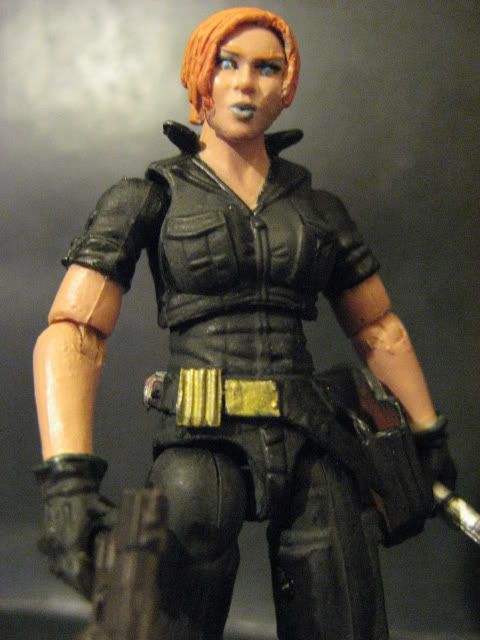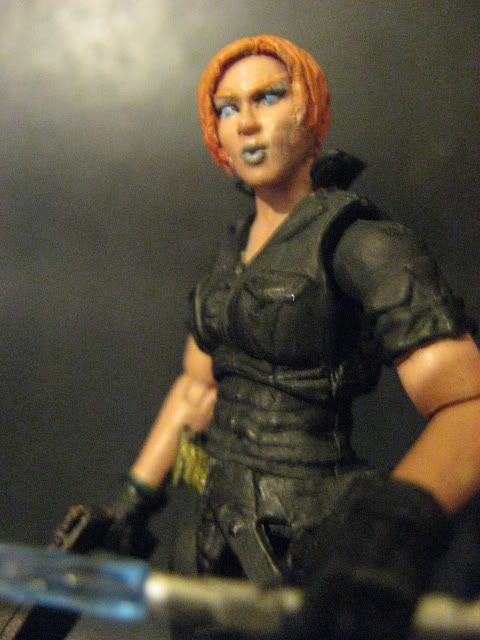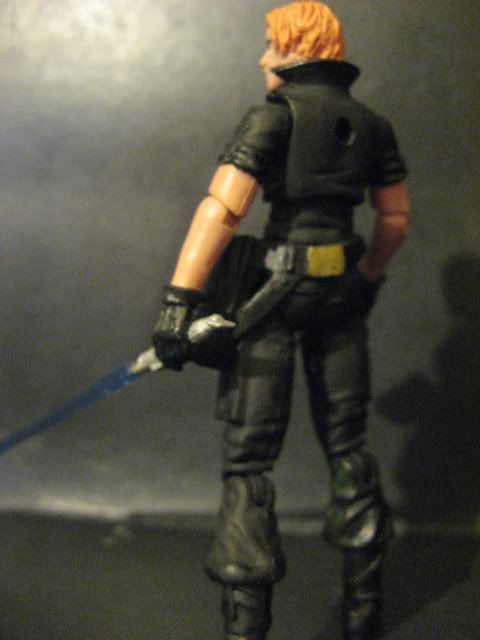 O.K SO SINCE IT IS OCTOBER ALREADY NOT ONLY I PICKED THE DARK SIDE FOR THOSE FIGURES ABOVE I WAS COMMISSIONED SEVERAL ZOMBIE ASS KICKING HEROES HOPE YOU GUYS WILL ENJOY.
SHAUN OF THE DEAD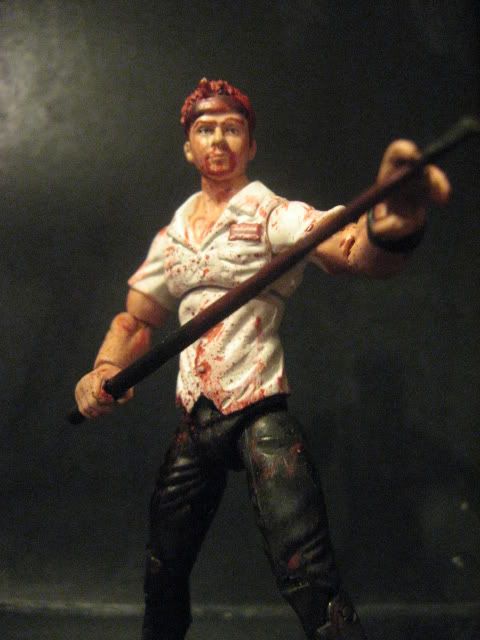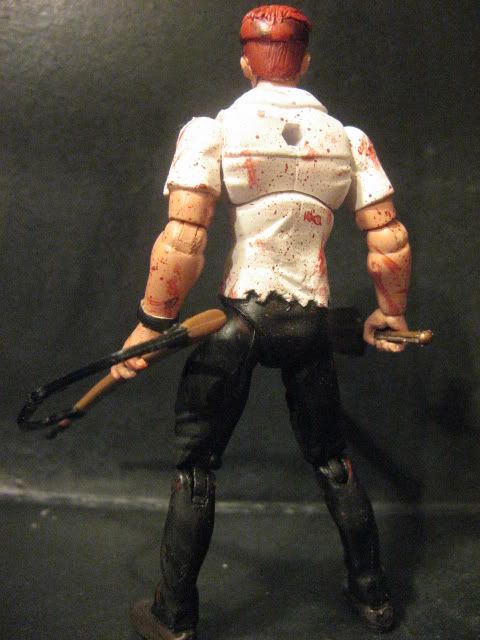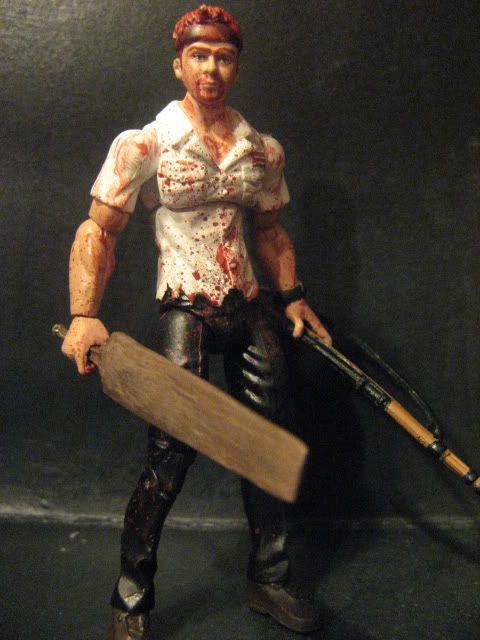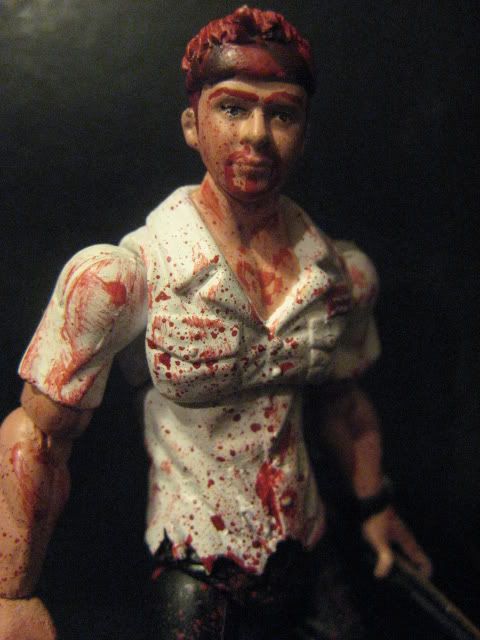 RESIDENT EVIL ZERO ALBERT WESKER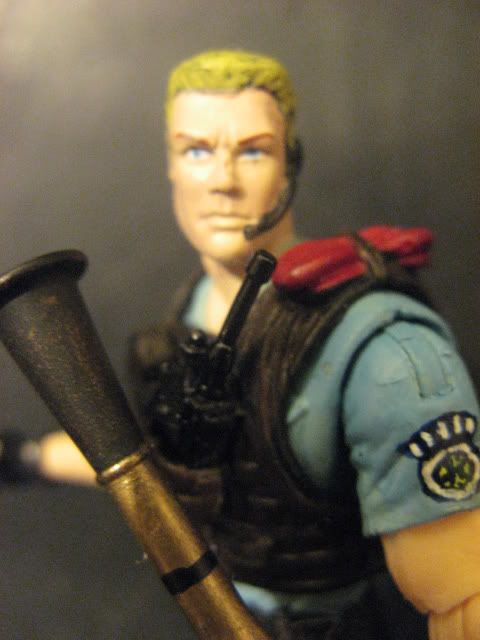 RESIDENT EVIL 1 JILL VALENTINE
RESIDENT EVIL 4 LEON KENNEDY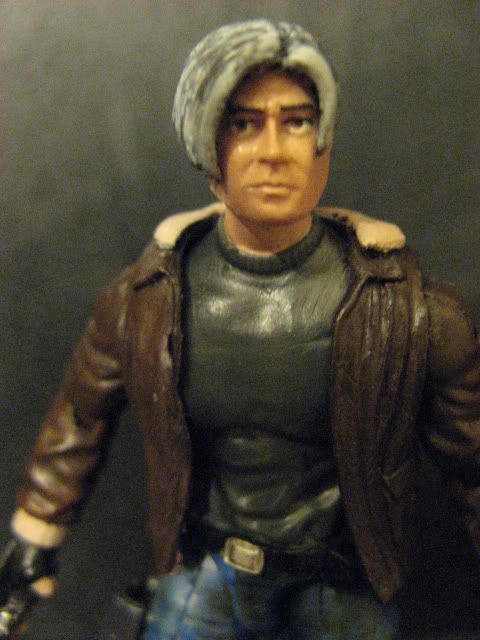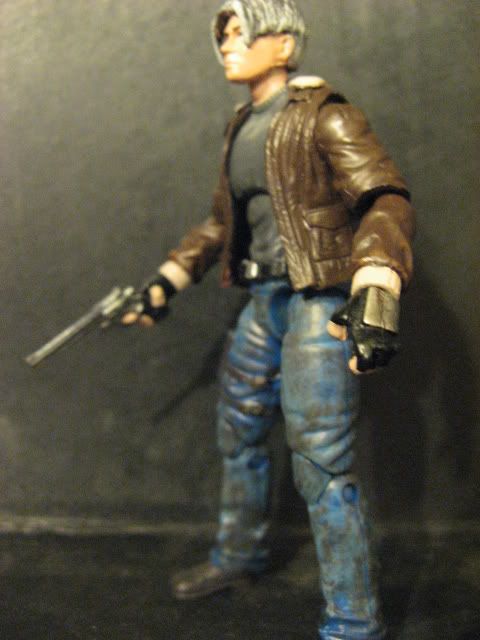 ALRIGHT THIS LOT OF ZOMBIES WAS ORIGINALLY MADE TO BE SOLD WITH GEORGE A. ROMEROS AUTOGRAPH HOWEVER THE GUY CANCELLED HIS SHOW AT DRAGON-CON IN ATLANTA SO I DECIDED TO LET IT GO TO A CUSTOMER FOR A FLAT RATE HALF OF THOSE PROCEEDS WENT TO CANCER CHARITIES PICKED BY FIANCE!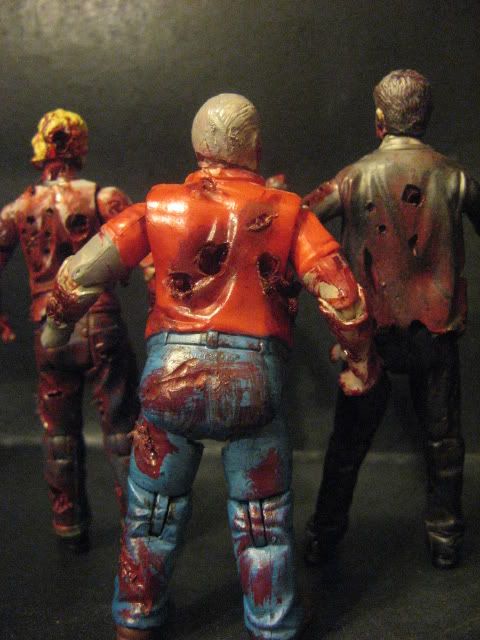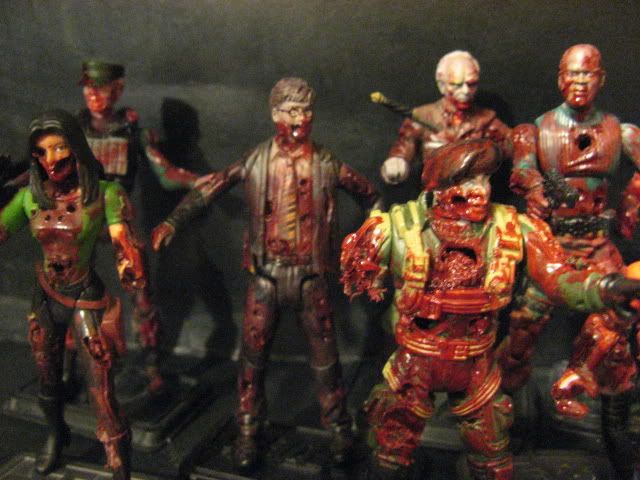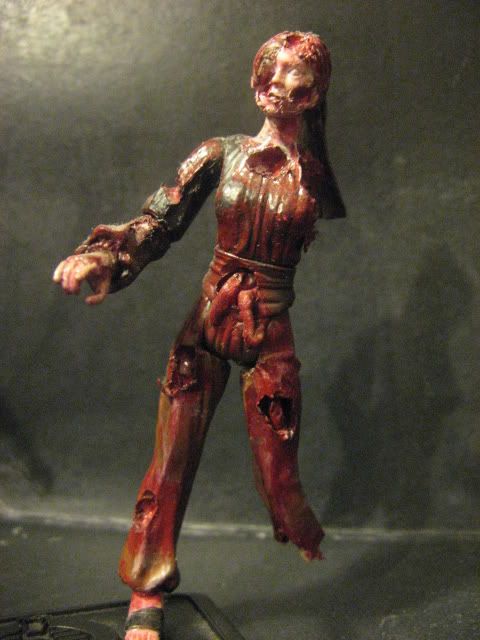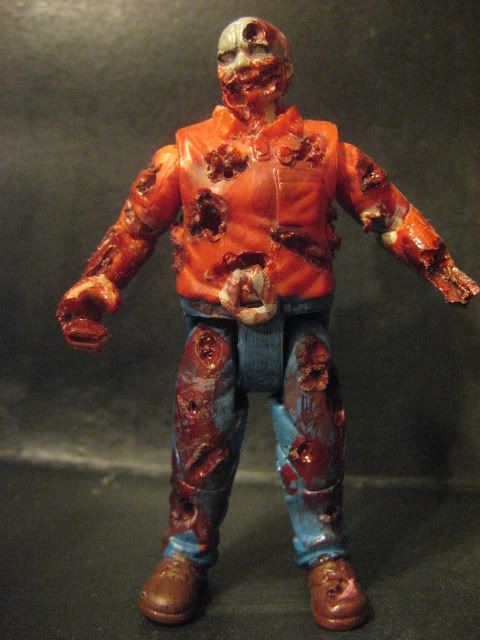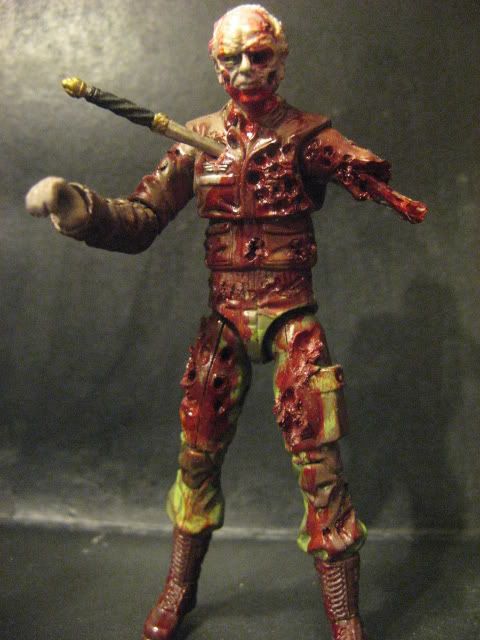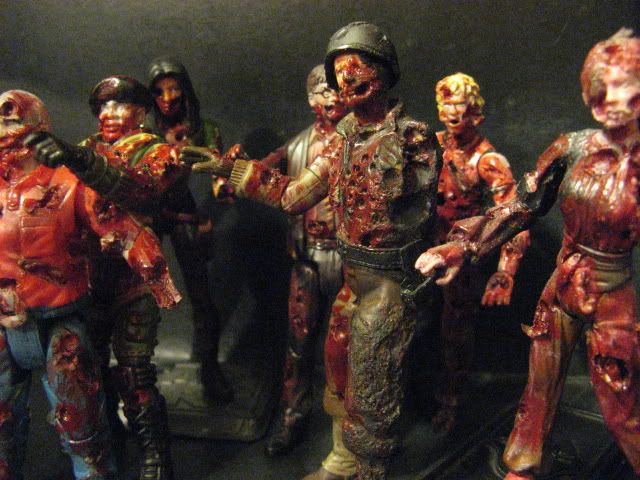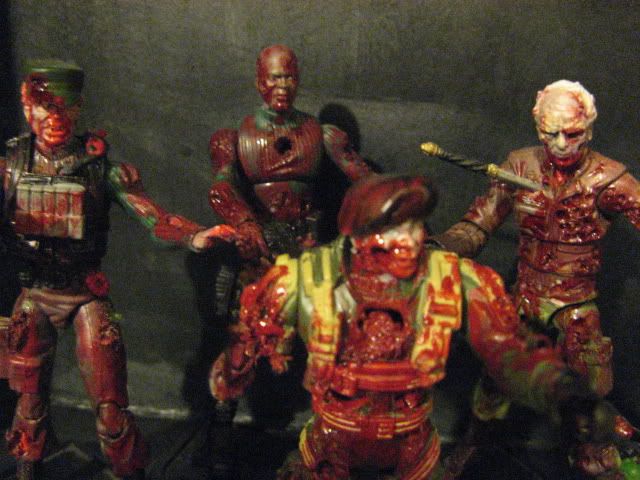 HAVE YOU EVER WONDERED WHAT A COBRA COMMANDER WOULD LOOK AS A ZOMBIE WELL NOW YOU DO.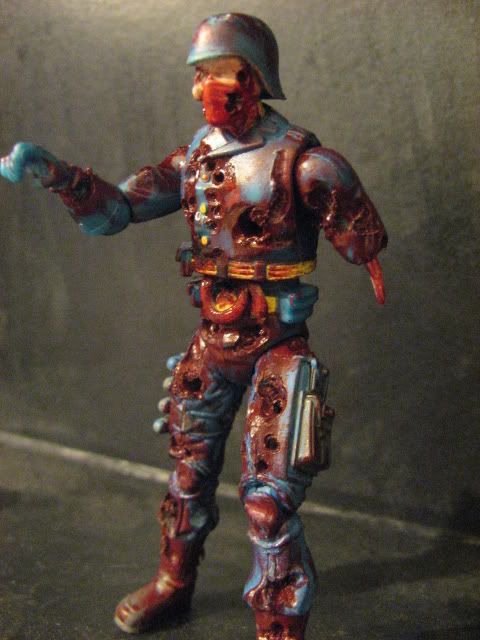 WELL I AM A HUGE HORROR FILM FAN AND WHEN THIS REQUEST FOR A FREDDY GI JOE CAME I COULD NOT REFUSE !! FREDDY KRUEGER WAS INSPIRED BY THE NEW MOVIE (COMING OUT CHECK THE TRAILER HE LOOKS SICK)AND A COMIC BOOK SERIES CALLED FREDDY VS JASON VS ASH THATS RIGHT BOYS AND GALS FREDDY FIGHTS ASH FROM EVIL DEAD AND BIG DUMB JASON IN THE COMICS YOU WILL HAVE TO WAIT FOR THE 3 SHOT I AM FINISHING UP JASON AND ASH WILLIAMS SO BE ON THE LOOK OUT.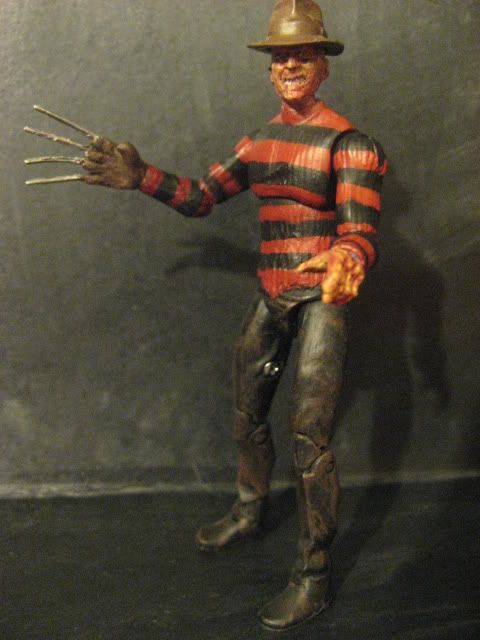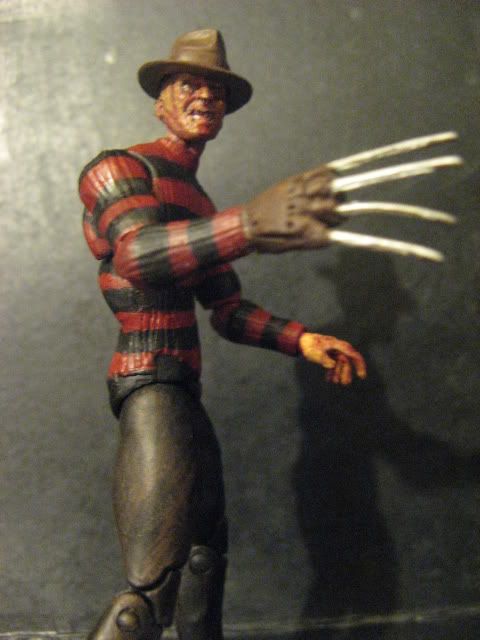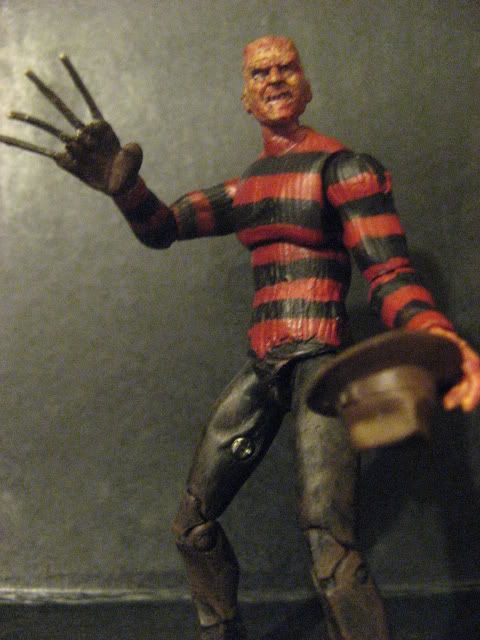 Thats it for now folks it is late and got a long week ahead. OCTOBER 10-12
========================================================================================
Hey Ladies & Gents back again!!
First i would like to apologize to everyone for my absence, this month has been very hectic, lots of commission work, HOMEWORK stuff, WEBSITE DEVELOPING (yes i am building my website) and now i am an official moderator here at our beloved YAKFACE!!!! PLUS I AM THE YAKSTREET LEADER TO BOOT!! Cant believe it!! It is so fun spreading the word about this site, trying to get attention in other forums is also great because the more response i get the more traffic i can send this way "MY LITTLE CONTRIBUTION" Plus i am also creating the official YAKSPACE over at myspace...So keep an eye out it will be launched very soon.
O.k so this month i have a ton of work that needed to be posted lots of sith lords and lots of gi joes, I have been slammed with GI JOE STUFF???? dunno why! so here is this WEEKS UPDATE i hope it is of your liking! stay tuned because i will be posting alot more in the upcoming week or 2.
Take care everyone.
Mike M.
11-20-09
FREEDON NADD
Head - serpentor
body - gi joe snails ROC
legs - serpentor
skirt - neimodian warrior
helmet sculpted using aves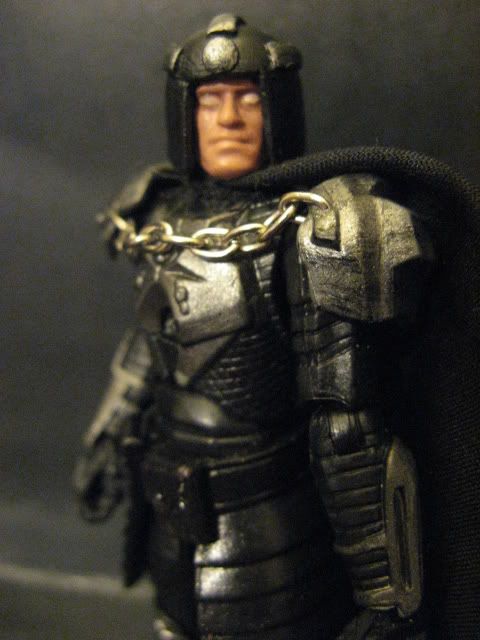 Ben Skywalker Legacy of the force
HEAD- LUKE MOISTURE FARMER
BODY - LUKE VOTC BESPIN
VEST - HAN SOLO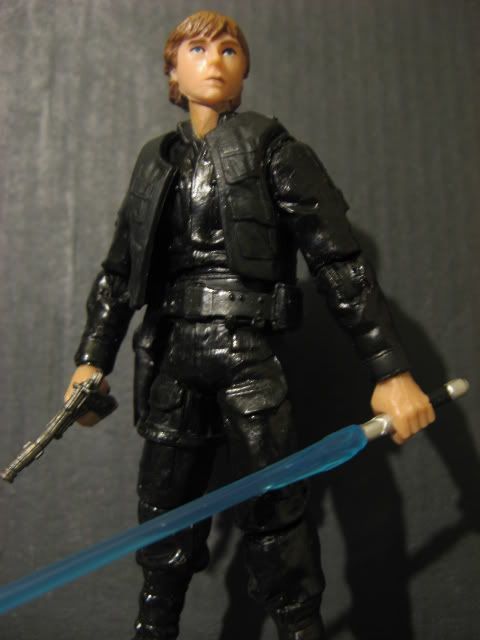 THE OLD REPUBLIC FEMALE SITH yakfinities #32 3rd place winner (NOT BAD!! thanks 4 the ewoks i am thinking THUNDERCATS HINT HINT)
HEAD-BARONESS
BODY - SCARLETT ROC
MASK- SCULPTED W/ AVES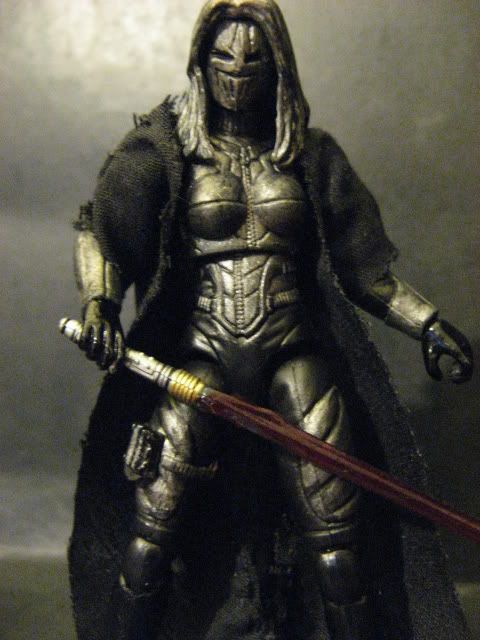 The Old Republic SITH WARRIOR
HEAD=SCULPTED W/ AVES
BODY- COBRA COMMANDER ROC
LEGS - COBRA FRED
ARMS - COBRA FRED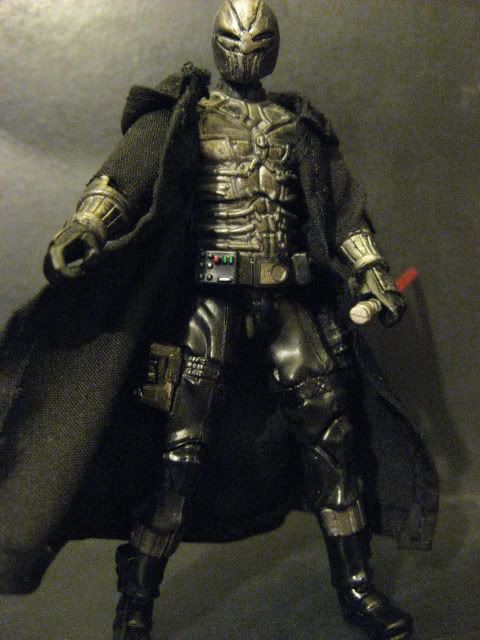 DARTH MALADI Legacy comics
HEAD- VENTRESS COMIC
BODY - VENTRESS COMIC
SKIRT - POTC CAPTAIN
HAIR - AURRA SING
DETAILS SCULPTED W/ AVES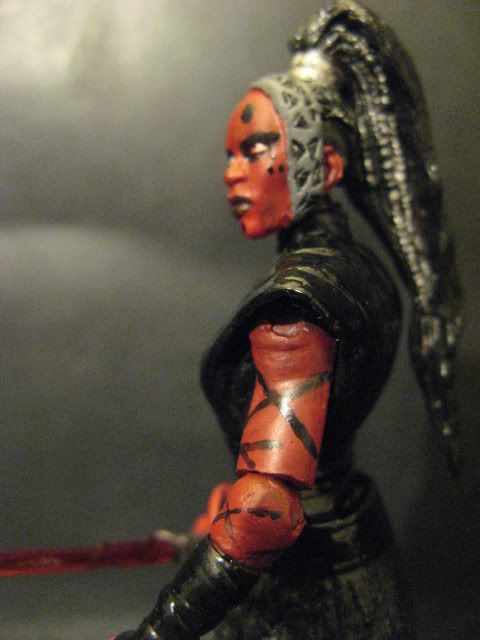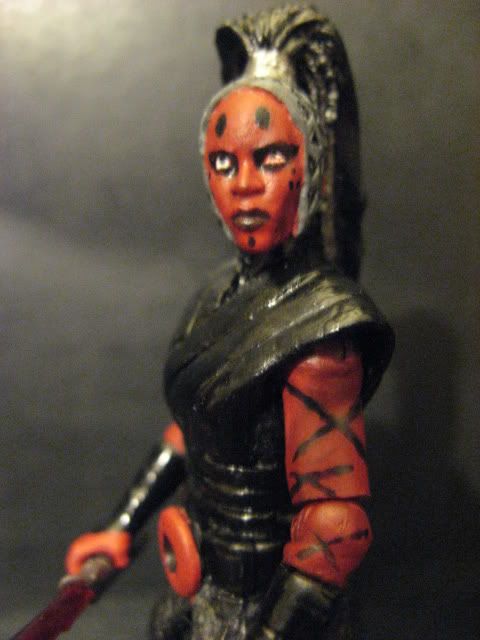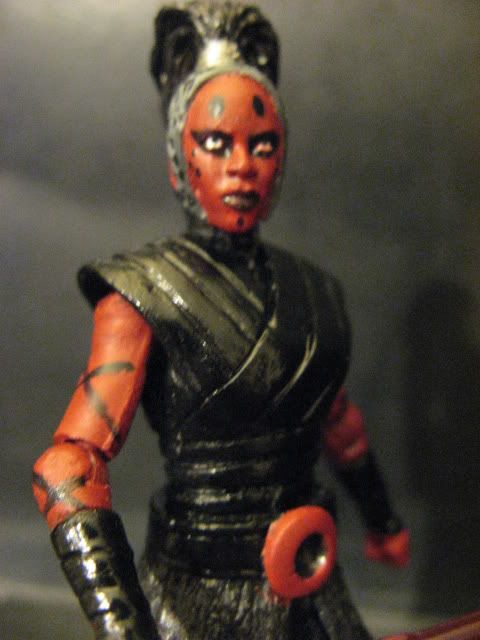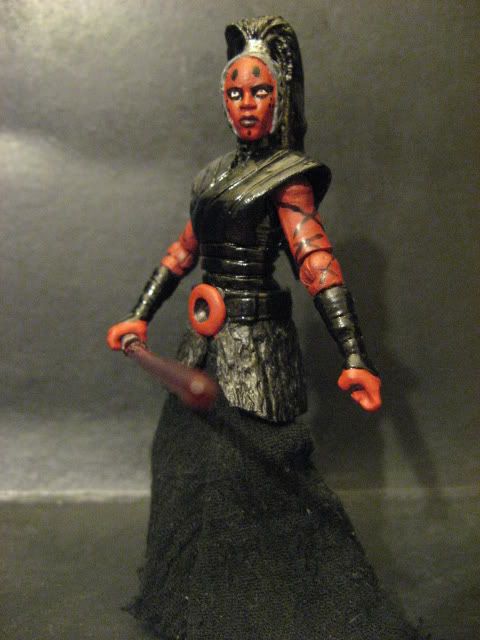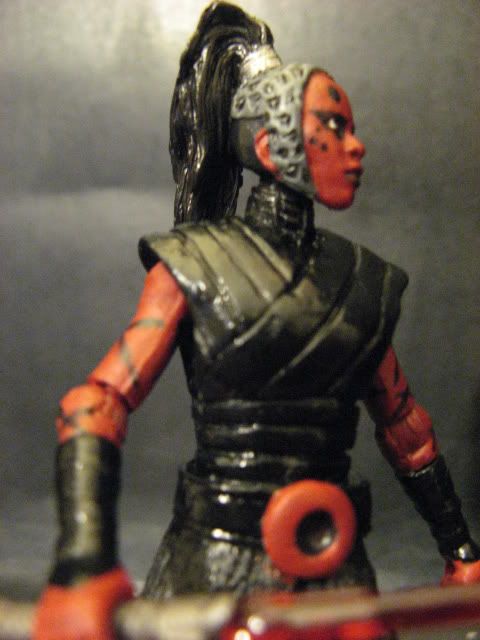 CYBORG-WOOKIE
head-chewie
body - t-600 terminator salvation
gun and wrist saw fodder
fur sculpted with aves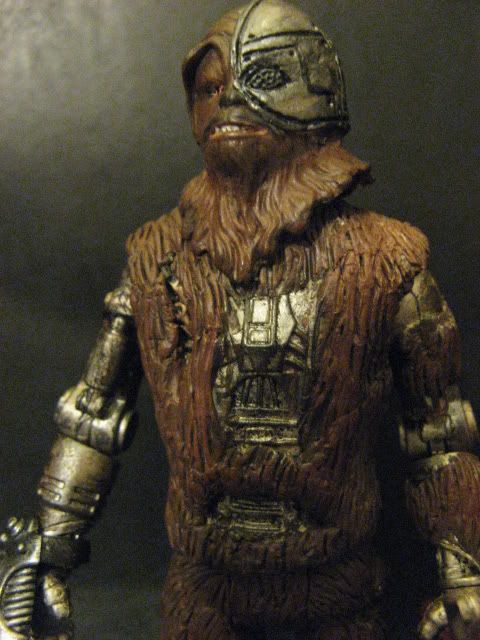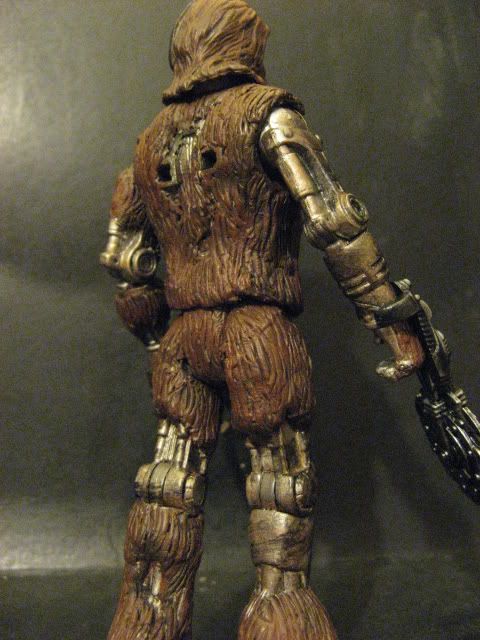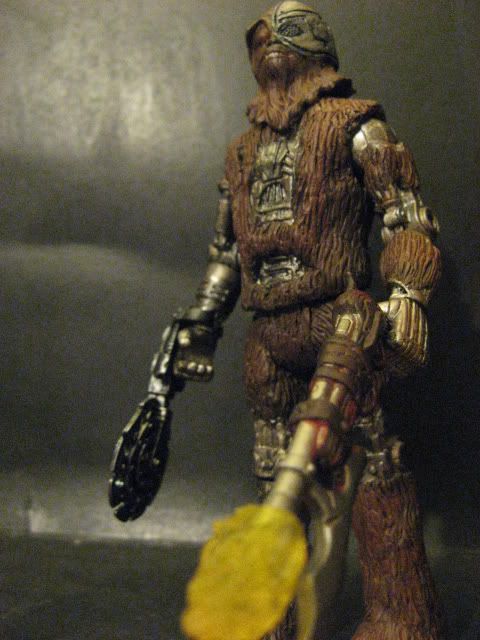 DARTH SION old version I somehow lost these pictures and found them in a friends camera? how? i dunno but well this figure was made around february this year and i am currently working on my 2 New versions of him FORCE UNLEASHEd & KOTOR II SION I even made a box for this guy!!
Head- cripy ANAKIN ROTS
BODY - GUNG HO
LEGS - QUIGON TRAINING POTJ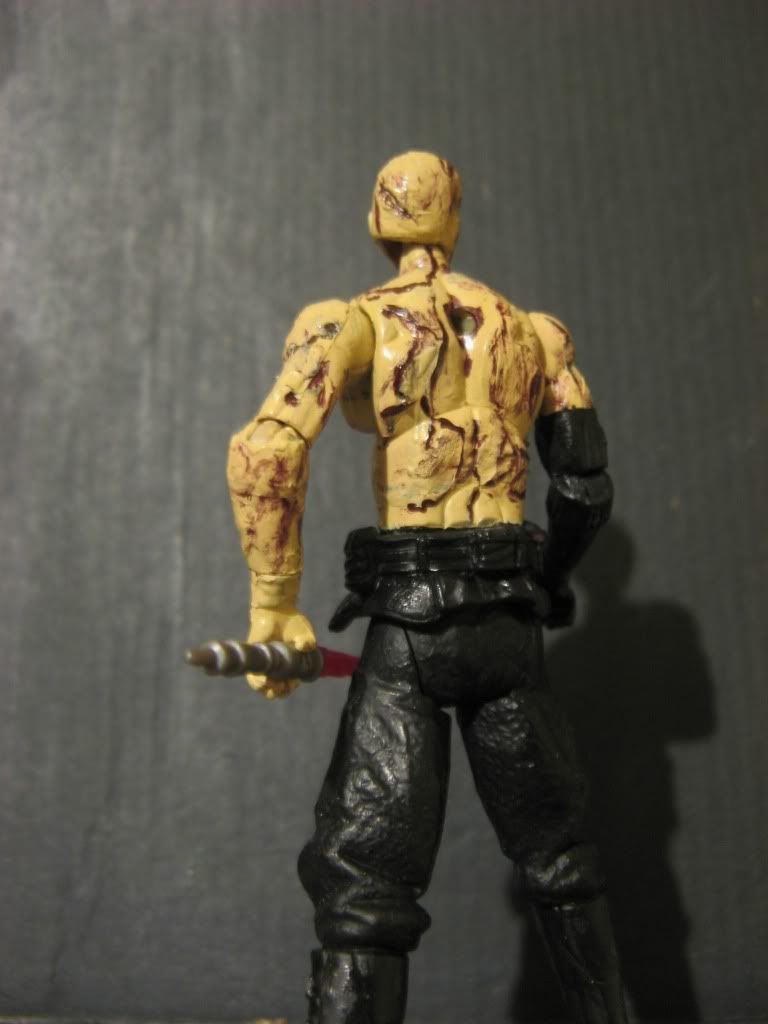 GI JOE MINICK COBRA-MECHA
HEAD- COPPERHEAD
CHESTPIECE- ULTIMATE IRON MAN
BODY - IRON MONGER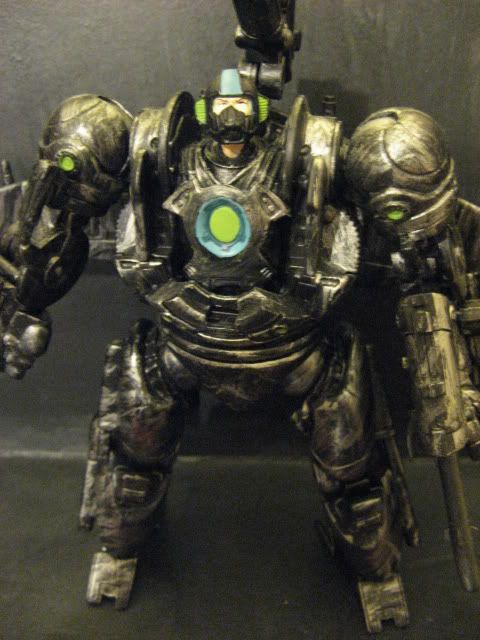 RICK DECKARD BLADE RUNNER ver 2.0
head-indy
body-indy
coat-commissioner gordon
arms - mutt indy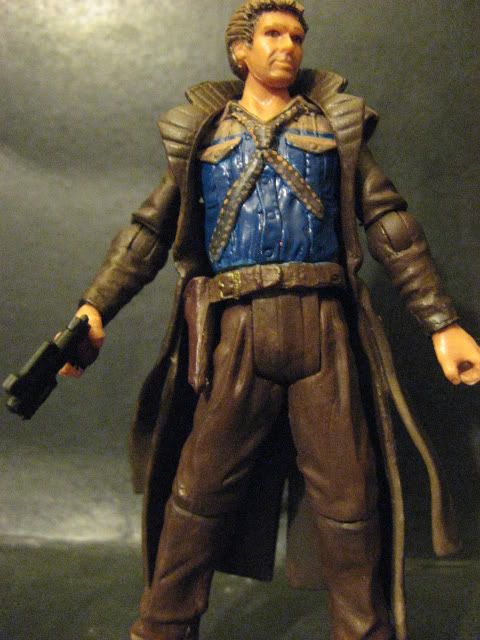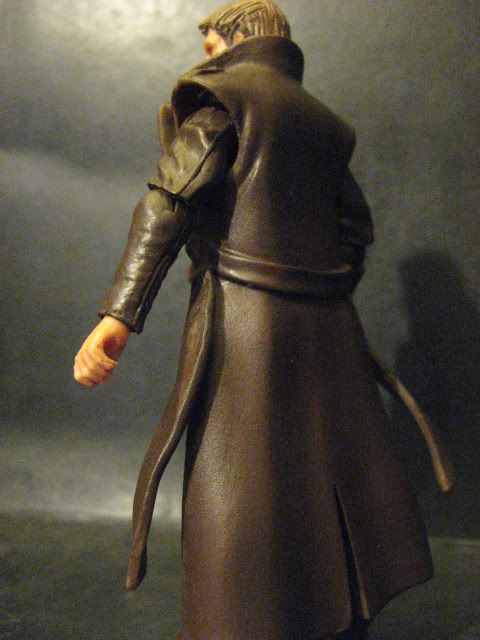 GI JOE 25TH THE PHANTOM
HEAD-SERPENTOR
BODY-SERPENTOR
LEGS-SERPENTOR
EVERYTHING WAS HEAVY MODDED AND RESCULPTED IN SOME AREAS W. AVES FIXIT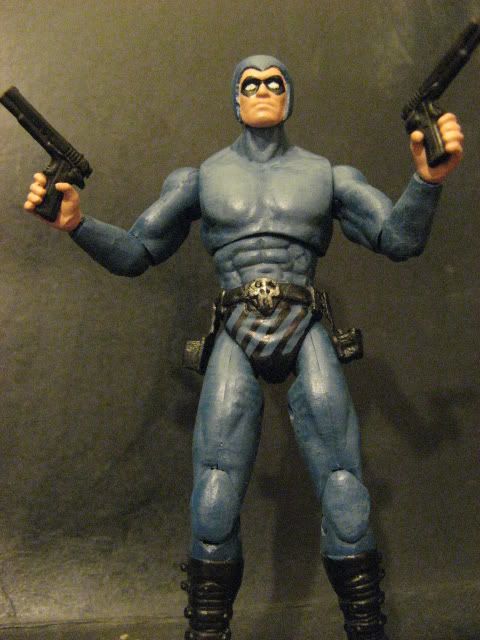 GI JOE 25TH ZANDAR
head - DUKE vvv
body - zartan
legs zartan
webbing - copperhead
quivers fodder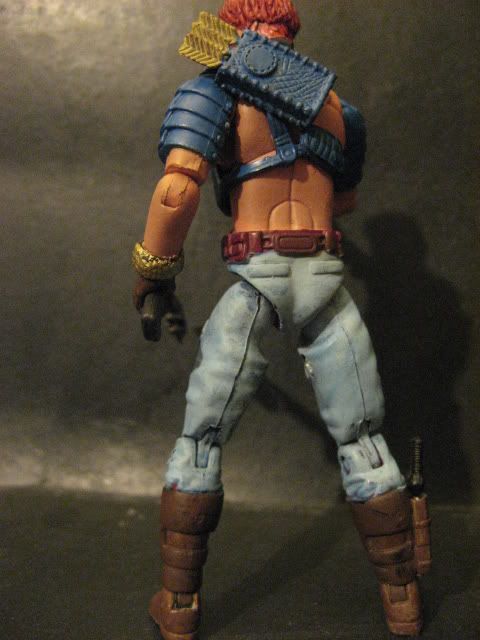 GI JOE 25TH POLARBITE CRYOMANCER NINJA original character fan-fic
head-ventress
body-scarlett 25th
fur and details sculpted
base - lava miner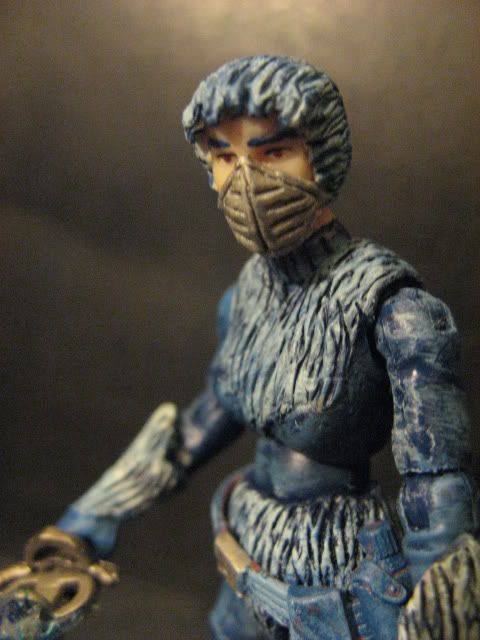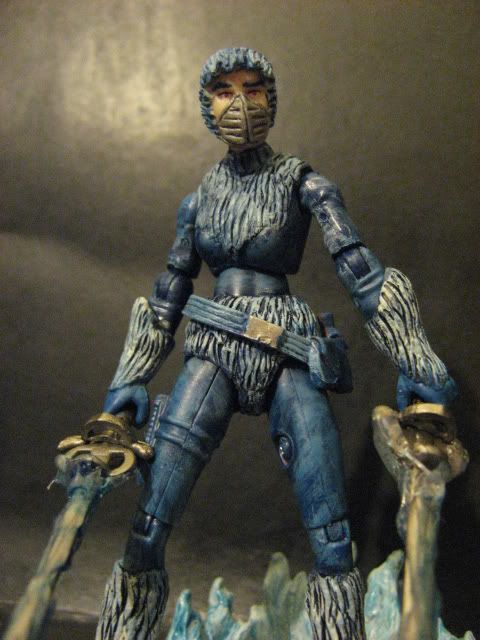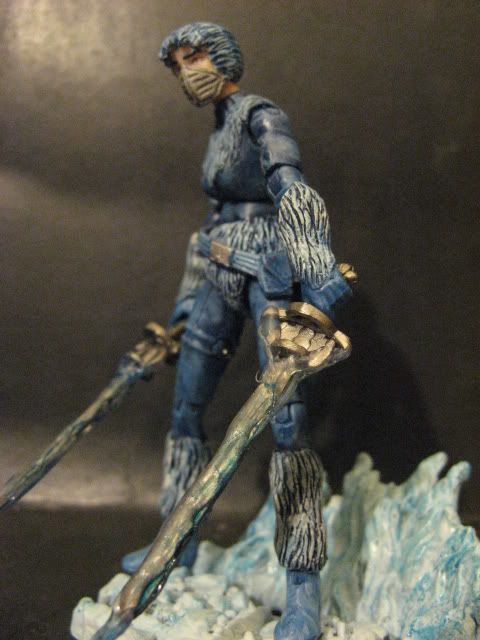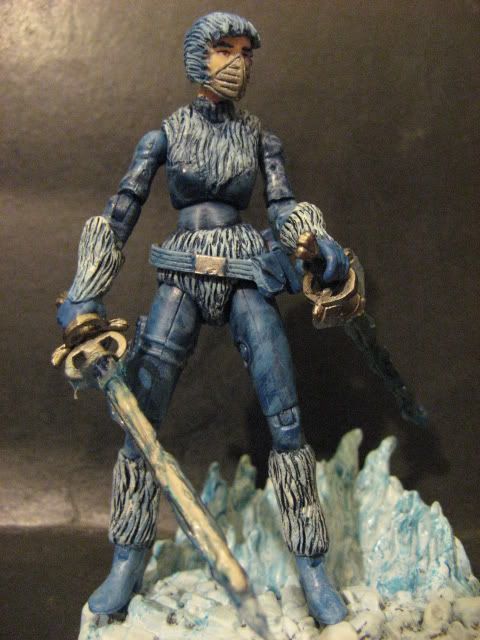 Thats it for this weeks update please be patient i will add on some stuff!! also please check out my myspace page it has been re-done at
http://www.myspace.com/mercury_art_studios
if you have any questions feel free to give me a shout out!
take care
Mike M.
=========================================================================================================