- Sat Mar 10, 2012 7:54 pm
#115505
Here is
Opun Mcgrrrr
, the founder of the Black Hole Pirates, owner of the Holiday Towers hotel on Cloud City and someone who bears an uncanny resemblance to
Heater
(or possibly
The Fat Man
) who often poses as Jabba The Hutt.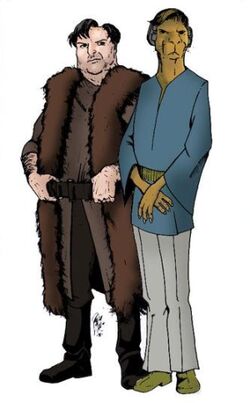 Recipe:
* Pirates Of The Caribbean: On Stranger Tides
Gibbs
(heavily modified)
* some modelling clay
* some material
* some paint (Citadel "Elf Flesh", "Chaos Black", "Skull White", "Devlan Mud"
For a character that was only ever intended to be a fill in until the proper "look" could be found, the human Jabba filmed for the first Star Wars movie has certainly had some retconning applied to him, with no fewer than three different characters now listed on Wookieepedia as sharing the same appearance and similar biographies. While I chose to pursue what is presumably the most canon version of the character, I took some queues for the costume from Declan Mulholland's whilst keeping the hairstyle from the drawn Opun. I'm normally pedantic about making sure that the material used doesn't fray, but I thought that letting it go here might work in the context of the character which I think that it does.