- Mon Dec 16, 2013 10:54 am
#135979
When the special editions were first released, the scene I was most excited to see was the confrontation between Jabba and Han in docking bay 94. Although in retrospect I feel the scene doesn't work with the pacing of the film, it was fun to see. It also had several unique "space pirate" type characters that I wanted as figures the second I saw them.
Most of these characters would require new tooling, a few legs and arms could be reused from past figures.
Boelo
My favorite of the Docking Bay crew. I love his weird pointy hat and lanky silhouette. He just has a really distinct look. If anyone of these guys have a chance being a figure, it's him.
Jabba the Hutt
I could see Hasbro not making the human "Jabba", it may be too obscure or not fit with the current character cannon. However we have received deleted scene and Holiday Special figures before, so anything is possible. Maybe pack him with a Chewie and a Han and make it a convention exclusive.
Gela Yeens
I feel this shady character could be made with some existing tooling (Kithaba legs, Windu arms). Fun Fact his name may be an anagram of "Angel Eyes", a reference to
The Good, the Bad and the Ugly
.
Davelyn Schmee
This poor henchmen doesn't have an official name, so I'm giving him the fan made moniker. He's another really unique looking character.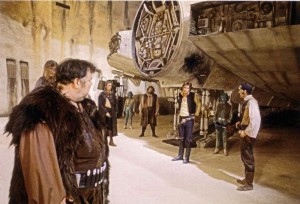 The great thing for diorama builders is all three of Jabba's henchmen also appear in the cantina, warranting multiple purchases. I think out of the background humans yet to be made these are some of the most unique. Look at Davelyn's head sculpt alone. I could see customizers picking him up just for it alone.
So what do you think of this set? It's chances of being made are slim, but I think if released right (maybe split into two packs with some existing tooling Han, Boba, Rodian, Chewie) it could do well. So would you buy this???
Last edited by
localgotal
on Mon Dec 16, 2013 10:31 pm, edited 1 time in total.