- Sun Feb 09, 2014 1:28 pm
#137580
Here's an early peak at this week's
Concept of the Week
. The Jabba and Cantina battle packs from past weeks have gotten a great response. I'll admit they are the most fun to make. Here are some two packs with a similar theme. Each set would include some all new, retooled, or repainted background characters from our favorite seedy corners of the Galaxy.
There are quite a few iconic and visible denizens from Return of the Jedi who have yet to be immortalized in plastic. These 2 packs would focus on mostly new never before done characters.
*UPDATE* Here is the final set of the Jabba's Palace figure packs, I may have a few more lined up for future Concept of the Week entries.
Fozec
has been on wishlists and rumored for ages. Apparently he's also in Hasbro's "parking lot" of characters they'd like to produce. Although a human occupant, he has an aggressive outfit and Jabba's guard charm - certainly not boring. He is also quite visible in many scenes among the palace court. Fozec could reuse the fantastic VC Nikto legs with an all new upper body/head. Fozec also has a bit of repaint potential as the unfortunately unnamed shirtless skiff guard is wearing the same costume. Fozec would include a battle staff (reissue from Boushh), drinking glass, removable helmet, and goggles (yep he's wearing them on his forehead). I think we will see Fozec at some point, it's just a matter of when?
Wam "Blam" Lufba
certainly looks like a rejected creation from the Henson Workshop. He's odd to say the least, however his cheesy design makes him somewhat endearing and dare I say it a worthy action figure. I felt the same way about Ben Quadinaros- I hated his "toonie" design, yet he made a fantastic figure! Wam also has some nostalgia tied to him - a mini figure simply labeled
Yuzzum
was included with the old ERTL Jabba's Palace model kit. Wam would be a brand new fully articulated sculpt and include his signature big ol' riffle.
The pack in creature for the final set would be the "toadstool terror"
Loje Nella
.
Several characters on set reused the alien masks from ANH's cantina. Here's two of them...
Geezum
gets a decent amount of screen time and can be spotted in both the palace and sale barge (artoo spills drinks all over his outfit, poor guy. Well the good and bad news is he won't have to worry about that laundry bill thanks to Luke.
) Originally I thought he could be made using some parts from the target 3-pack snaggletooth, however his mask is actually the revised version first seen in the Holiday Special and would require an all new sculpt. I think of the non skiff palace goons he has a decent chance seeing a figure - being both an alien and having an "aggressive" outfit. Geezum comes with a drinking glass, blaster, and working holster.
The unnamed
H'nemthe
is a little harder to spot. The best image is from a production photo, standing next to Ephant Mon. This character would use most of it's parts from M'iiyoom Onith - plus a new vest, lower robe, and use the VC Wooof arms.. The H'nemthe would come packed with a drinking glass and skiff blaster.
The new pack in creature would be the creepy-crawly
Sic-Six
Shasa Tiel
is my number one most wanted Jabba's Palace figure, and is a major hole in our collection. I was severely disappointed in the POTF2 line when we received the rebel Ishi Tib and not the iconic Jabba goon. Shasa would require a brand new unique sculpt (for the sake of this mock-up I used the POTF2 head and hands). Unlike a lot of backgrounders Shasa is quite visible in several parts of the film. I think he is most notable for appearing on the vintage Jedi Luke's card back- stalking in the background as Luke aims the guard's blaster. Such a cool and iconic OT Alien! Shasa would include a drinking glass.
Laudica
definitely has a striking look - from the pale face makeup, to the bright red jumpsuit, and the totally 80's hair. She would be an extensive retool of the Discover the Force Aura Sing. A new upper torso with sculpted brass necklace, a new head sculpt, and a new belt would be needed. She would also use the arms from the VC Bespin Leia. Although not as interesting as the various aliens in the palace, she is quite noticeable with that bright jumpsuit of her's in the sea of earth tones most of the court wears. Laudica would include a bar glass and blaster.
Lastly each two pack would include an accessory similar to the K-Mart Scanning Crew sets. For Jabba's palace I feel the best accessories would be Jabba's "pets". These small creatures would be light on articulation - at most one or two points, but great for adding diversity to our Palace creatures. This 2 pack would include the
Rock Wart
.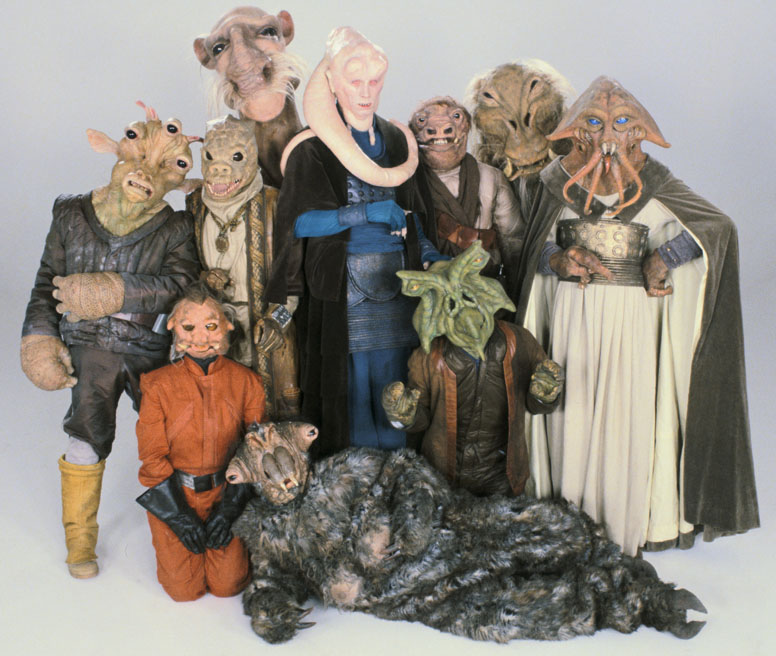 I love sets like this and think they are a great way to get new collectors interested. For example if a single Shasa Tiel was hanging on the peg that isn't going to get most new collectors to begin the daunting task of going back and starting a Jabba's Palace focus, but having two or three multi-packs available on the market will give them the instant gratification of having a mini collection. This actually happened to me two years ago with the ewok sets. The only ewoks I owned were the POTF2 logray/wicket, chirpa, and the vintage collection wicket. After the Toy's R Us and Kmart sets I was hooked. I purchased all of the ewoks I missed out on from ebay and eagerly await more of the little buggers. So please Hasbro consider this approach in the future.
Last edited by
localgotal
on Sun Feb 23, 2014 11:31 am, edited 8 times in total.