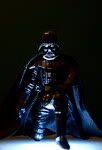 By
Incom
- Thu Jun 07, 2018 1:05 pm
- Thu Jun 07, 2018 1:05 pm
#164501
My 2 cents:
Saw it on opening night and really liked it right away. So yeah, a lot of stuff is explained in a very obvious manner, but I can see past that. This one and the other "non-Skywalker" movie Rogue One, are to me very enjoyable chapters.
Alden had some very big shoes to fill, judging from the online hype, or did he? Well, yes, if you expected him to copy Harrison Ford, but guess what? He wasn't there to act like Ford portraying the role of Solo, he was there to portray a younger Han Solo. And I think he did a swell job. Right down to small gestures, postures and facial expressions.
I also liked Donald Glover's role as Lando. A lot. He got that part down to a T. And Jonas has really become the 'new' Chewbacca. What an awesome role for him in this movie. And of course, the real star of the movie: the Millennium Falcon
I have now seen it three times, because ever since TFA came out, I have this silly urge to watch a SW movie multiple times, with Rogue One a record 12 viewings
And I still like it. But admittedly, the supporting characters still don't do much for me. Expendable, just there to fill in the blanks.
The Maul reveal was surprising and I think obviously setting up other movies. Perhaps a movie about the underworld and crime syndicates? Maybe a hint to that Obi-Wan movie?
All in all, I give it 7 out of 10. Or 3.5 out of 5. Whichever you prefer