Moderators: YAK_Chewie, Yakface.com Staff
Nerf Herder
Posts: 243
Joined: Sun Jul 16, 2006 11:02 pm
Location: Disneyland Spaceport
Here is where the concept art and overall design of the project should be discussed.
Forum Admin
Posts: 23602
Joined: Sun May 07, 2006 4:18 am
Contact:
The prevailing idea thus far is some sort of look similiar to Dantooine -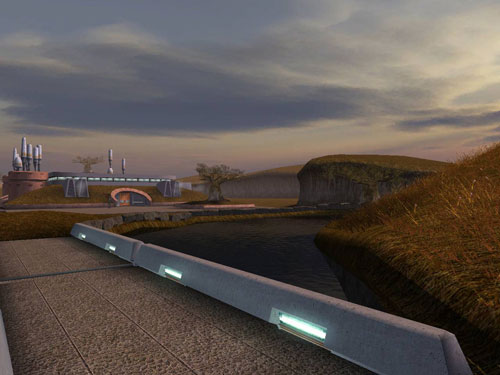 Forum Admin
Posts: 23602
Joined: Sun May 07, 2006 4:18 am
Contact:
The Group Leader of this portion of the project is Glassman.
So far we have started off with some sketches of what the planet might look like... and created some overall concept ideas as well. These are just a few so far that have been mentioned -
Also recently I went to a local hobby shop that I used to go to, and looked at some of the scenery materials. I know we are looking for the cheapest way to go about things, but I think we will need to also look at getting the quality of this to a good standard or it will look pretty bad.
I saw a landscape material by Woodland Scenics (
http://www.woodlandscenics.com/
) that measured 50" x 100" and was $24.95, called a ReadyGrass Vinyl Mat and is available in four colors: Spring Grass, Green Grass, Forest Grass and Summer Grass. It is commonly used for model railroading, architectural models, collectible houses, military dioramas, arts and crafts, gaming and more. It is moldable and retains its shape to make hills and mounds. You can scrape off the turf to make a smooth surface for roads, sidewalks, parking lots and water areas.
Here's a pic of it from their website -
Now, 50" x 100" would be a decent size, especially if we use two of those. Then we can also combine other elements - I am thinking some sort of stone tiles for the streets/pavement of the city area.
To try and show a better idea of what I am thinking, here is a suggested template based on Glassman's idea, but without buildings/trees or mountains added in yet. Just the base before any structures are added. And the grass is more of a yellow like on Dantooine.
Thoughts? The above pic is just an idea before actual buildings, trees, rocks, etc. would be added.
To me the most important thing is making sure we have a nice base/ground to it that doesn't need to be assembled/made by several people. The ReadyGrass Vinyl Mat/Stone Tiles should solve that.
I am planning to buy a roll of this very soon and see how it works and if it's something we could work with or not. I'm going to be working on finishing my basement with my father in law the next couple weeks but should be able to find time to work on this as well.
Forum Admin
Posts: 23602
Joined: Sun May 07, 2006 4:18 am
Contact:
I got to thinking some more about this and an idea hit me... what if this planet had some sort of droid junkyard? I think that could really add a cool element to this.
If you guys like that idea, I'd be happy to take that responsibility on.
I got your e-mail Chewie, I like the idea!!!
---
Return to "UGP: Ultimate Group Project (2007)"
Who is online
Users browsing this forum: No registered users and 2 guests