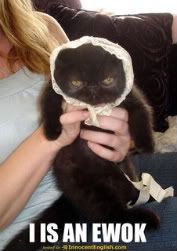 - Thu Jun 03, 2010 2:28 pm
#84947
Just got lucky on Ebay just from one seller who seems to be selling his collection and filled some gaps in my collection. got decent bids for them too.

Picked up:

VOTC Yoda
VOTC Lando
OTC Cantina set with Snaggletooth, Kenobi and Ponda
Saga deluxe Wampa
Saga deluxe Palace Denizens
2003 Clone Wars Hailfire Droid

Nearly got the 2003 Clone Wars AAT but my laptop went blank and i lost, watching the TAC Y Wing and Saga deluxe C3 PO.

So pleased right now!
If i wanted figures like Rebels and Legends series i'd build a time machine. Even if i did want them, i'd probably still need a time machine..