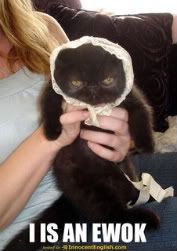 - Fri Mar 21, 2008 7:38 am
#40381
A Falcon question from Sirsteves, In politics "No comment" means it's true! and this answer smacks of it's true!
SSG: While it's our site policy to avoid rumors, our readers have been wound up a bit on this one so they demanded we ask.... It seems like there was a lot of hype and rumor about a new Millennium Falcon vehicle for the main line, including the leak of a Target DCPI number that came with the AT-TE - which Hasbro is indeed materializing. There was a lot of expectation that Hasbro would unveil both the AT-TE and this new Millennium Falcon at Toy Fair, and while the former appeared, the latter did not, so might you comment on these Falcon rumors at all? If nothing else, a simple confirmation or denial would ease a lot of collector tension.

Hasbro: We have no comment on anything to do with a Millenium Falcon item, other than to say that it is not our policy to comment on certain rumors especially as they pertain to items that may appear in the Target (or any other retailer's) computers. Often, there is a reason for this secrecy because some items may be part of that retailers promotional tactics such as the Ultimate Battle Packs at Target. Whether or not there is another such concept in development will not be commented upon for this reason.
==================================
http://jedinews.co.uk/
Millenium Falcon Pre-Order and Details!
The folks at Play.com have the new unconfirmed Millenium Falcon available for preorder for £139.99 with a due date at the end of August.
Meanwhile, we've got an e-mail with an attachment from what looks like a Hasbro catalogue with details of the ship (no picture though - just the new TLC Star Wars logo and the words 'Top Secret') and that it will include Han Solo and Chewbacca amongst lights, voice sounds (lifted directly from the film) and much more... thanks for the information whoever you are!
We've not posted the picture as we can't get any confirmation from Hasbro at the moment, it being Easter Friday - when we do, and if we're allowed, we'll post the image.
==================================
And here is the blah blah from the page on Play.com.
http://www.play.com/Gadgets/Gadgets/4-/ ... 25274f2570
>
Specifications
Product image will appear soon
Description
Blasting out of Mos Eisley the Millennium Falcon, a legendary starship, has factored into some of the Rebel Alliance's greatest victories over the Empire. Fantastic new version of a great classic designed by the man behind the very first ever Kenner Millennium Falcon. This will be a must for collectors of all ages. More info to follow soon.
If i wanted figures like Rebels and Legends series i'd build a time machine. Even if i did want them, i'd probably still need a time machine..