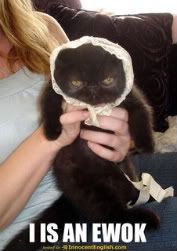 - Sat Dec 06, 2008 5:10 pm
#55722
http://www.sandtroopers.com/smf/index.php?topic=5183.msg221533#msg221533
1) To follow up on an answer given to Rebel Scum on November 7th, regarding the Commando Battle Pack due in Spring 2009, which weapon will be featured? The standard DC17 blaster or the DC17 anti armor variant that was included with the Republic Commando/Super Battle Droid Comic Pack? Will he be the black armor or another armor color variant that we have yet to see and will the upper body articulation remain the same or has the figure been completely redone?
The figure has new knee and ankle articulation, and he will be predominantly blue-colored. We did not change the upper body.
He is based on the cover of the Karen Traviss novel Omega Squad: Targets. His weapon is the version that came with the Republic Commando Delta Squad set, as opposed to the version that came with Scorch basic figure or the comic pack. We have an important update on the wave of Evolution packs that includes this pack as well as Rebel Pilots #3 and Imperial Pilots #2. Originally scheduled as a continuation of the Evolution Packs lineup in Spring '09, development schedule delays have pushed this wave out and as such it will not receive distribution at all retailers. Once we nail down which retailer(s) will be carrying these packs, and the expected on-shelf time, we'll get an update out to all of the Star Wars sites.
If i wanted figures like Rebels and Legends series i'd build a time machine. Even if i did want them, i'd probably still need a time machine..