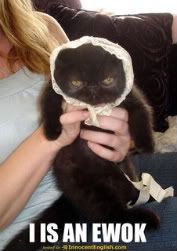 - Thu Jul 08, 2010 1:47 pm
#86683
Yeah true i was one of those that missed it, saw it once and bought something else at the time.
Shame it's not a different coloured one since we see them in all the colours of the rainbow lol. And i remember seeing a TD on a Dooku Speeder somewhere?
Seriously i didn't notice the sidecars in the episode, i thought Habro made something cool up!
If i wanted figures like Rebels and Legends series i'd build a time machine. Even if i did want them, i'd probably still need a time machine..