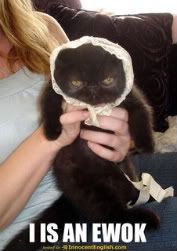 - Sun Mar 28, 2010 9:49 am
#81866
Hasbro have been in touch to let us know some of the details about the redemption program that will be running after the rocket-firing Boba Fett promotion has finished.
The redemption certificate will be included in the Clone Wars figure assortment for Autumn/Fall 2010.
http://www.jedinews.co.uk/
Galactic Battle Mat and Sergeant Bric Figure Redemption Program
The Galactic Battle Mat works as both a playmat and carrying case for your Star Wars Figures and comes with 20 pockets to hold Star Wars figures and accessories, allowing you to play the Galactic Battle Game with your favourite heroes and villains.

Also included is an exclusive Sergeant Bric Figure with Battling Card, Battling Base (portable play mat) and game die. All other battle cards and figures sold separately.

The galactic battle cards are included in the following items:

•Clone Wars figures
•Star Wars Saga Legends figures
•Star Wars Battle Packs
•Star Wars Figure & Vehicle Assortment
Our thanks to Hasbro Canada for passing on this information and we will be doing a more in-depth write-up on the game, so keep checking back for more details.
If i wanted figures like Rebels and Legends series i'd build a time machine. Even if i did want them, i'd probably still need a time machine..