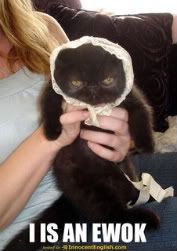 - Mon Nov 01, 2010 4:18 pm
#92241
http://www.16bit.com/hasbroswqa-101029.asp
Big vehicles have been something you guys have really been cranking out lately.? In 2008, we got a giant Millennium Falcon and an AT-TE.? In 2009, we got a new Y-Wing Bomber as well as the Turbo Tank.? In 2010, there's a new Slave I and an AT-AT.?? You can probably guess where this is going-- does Hasbro have plans to reveal another big-ticket ($75+) exclusive and/or non-exclusive vehicle in 2011?

Yes, there will be one new ship next year, and it will be less than $99.99 - that we have been focused on. It will be Clone Wars related, and that's all we'll say until Toy Fair.
Speculate now!
I say/hope the Twilight, any ideas?
If i wanted figures like Rebels and Legends series i'd build a time machine. Even if i did want them, i'd probably still need a time machine..