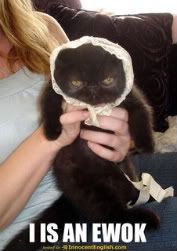 - Fri Jan 20, 2012 12:53 pm
#112263
I was actually aout to write my own Battle Pack question. They'll probably just say cost, thats their usual excuse, unless it's exclusives which they'll likely do.

Dear Hasbro

Not Battle Packs are down to three figures, mainly repacks and £14.99 how about some OT triology army builders, Rebel with Fleet Trooper, Hoth Trooper and Endor Trooper, and Imperial Stormtrooper, Snowtrooper and Scout trooper. just swap them up a bit, new heads and paint jobs such sideshows grey beard endor commando and a snowtrooper with officer markings; oh and add plenty of extra weapons since they're mainly repacks.
If i wanted figures like Rebels and Legends series i'd build a time machine. Even if i did want them, i'd probably still need a time machine..