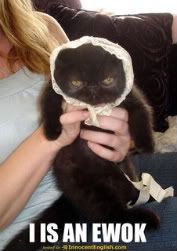 - Wed Apr 28, 2010 5:24 am
#83159
I DON'T KNOW IF YOU WANT TO POST THIS AS NEWS FOR UK READERS ON THE FRONTPAGE!
Today i got confirmation from Hasbro UK that these sets will be available here in the TRU UK Mid-August, here is my original email and Hasbro UK's reply.
--------------------------------------
Dear Sir/Madam
I was wondering if you would be able to help me, i have a query about a Star Wars exclusive Product that is available in Toys'R'Us U.S.A. The item is The Force Unleashed Mutlipacks, i was wondering if these items with be coming to the UK?
Thank You
Paul Fowles
---------------------------------------
Dear Paul
Thank you for your email.
I can confirm that these particular products will be an exclusive to Toys R Us in the UK and should be available from mid-end August 2010.
We hope this information is of help to you.
May we thank you for contacting Hasbro and if we can be of any further assistance, either now or in the future, please do not hesitate to contact us again.
Kind Regards, Laura
ASK HASBRO
Hasbro UK Ltd
00800 22427276
If i wanted figures like Rebels and Legends series i'd build a time machine. Even if i did want them, i'd probably still need a time machine..