Hey everyone.
I wanted to start a thread to show some of my customs, starting with my entries into this month's Yakfinities contest. I'll update as I get more done, and I've got some older work to re photograph.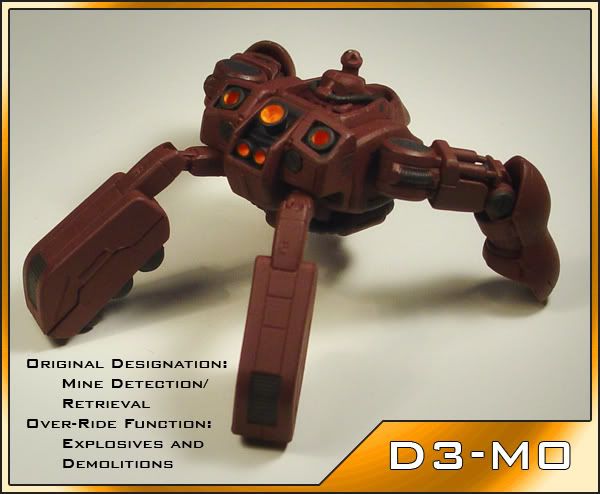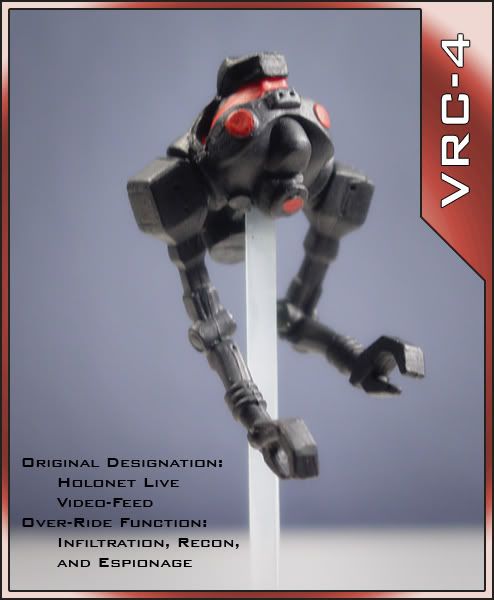 D3-M0 is the only member of the group that was created for military purposes. His original intention was to clear mines and explosives from a battlefield to clear the way for other troops. After time, the droid started to develop a taste for explosions, and by the time he joined up with the rest of the fugitive droids, he was an expert in demolitions.
D3-M0 was the first one I put together for the project, and was made from odds and ends I had left over from Gundams I used for other projects. His shape is loosely based on the "head-crabs" from Half-Life.
Originally a video-feed unit for the Holonet, VRC-4 now acts as the group's spy and scout. He's able to directly transmit to each member of the group, giving them all a birds-eye view of the battle field in real time. Equipped with a wide array of sensors, he's able to "see" in many different spectrums. Having severed himself from the long-range connection to the Holonet, VRC-4's transmitting now has a limited range.
VRC-4 was made from a GI Joe sigma six 2.5" BAT figure with claws from a medical droid. The original figure had very limited articulation, so I cut it up, turned it upside down, and gave it the new hands.